Building - Summoner's Tower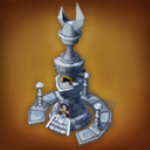 The Building Summoner's Tower is the Main building! Its our Tower! Where we set see our Profile, Set up our Arena Defense, check Arena Battle Log and check Attribute Essence or Craft Material Storage!
Summoner's Tower Cost
FREE
Summoner's Tower Level Require
Starting
Summoner's Tower - Profile
Since the update 3.8.5, all Summoners have a new Summoner Profile interface! We can open it by tapping on the Summoner Name in a Chat Window. Inside the Summoner Profile, we can find several informations and records about the Summoner!
On the top Left, we can find the Summoner Profile Picture, Level, Name and Arena Battle Rank and on the top Right, we can find the Summoner Guild Name.
There's 3 different sections that the screen can pivot to:
- Summoner Representative Summon [Middle - Default]
- Ellia's & Ellia's Ride [Right]
- Placement Summons (3x) [Left]
On the bottom Right, we can find 4 different Buttons:
- Record
- Defense Info
Depending if we check our own profile or other's
- Change Costume (Own) / Request Battle (Others)
- Placement Settings (Own) / Visit (Others)
Also, on other's Summoners Profile, on the bottom Left, we can find 3 different Buttons:
- Friend Request
- Add Mentee
- Block