Event - 14 Days of Mission Event Notice - 2019-03-03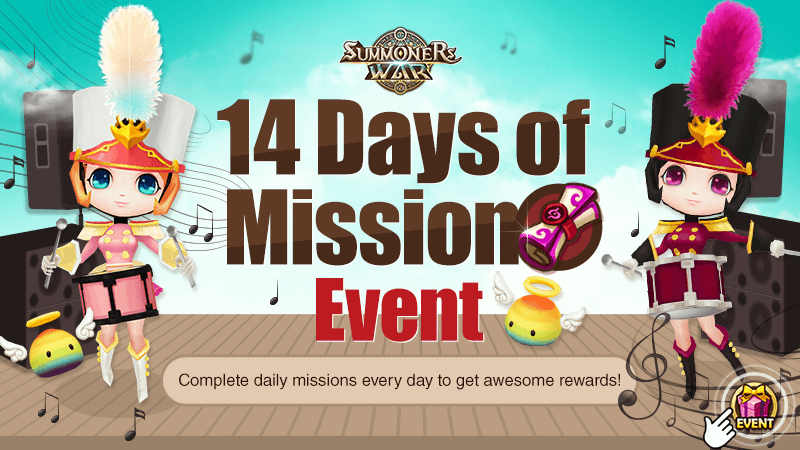 14 Days of Mission Event Notice
Finish
2019-03-03T18:00 to 2019-03-17T07:59
Greetings from Com2uS!
Complete daily missions every day to get awesome rewards!
> Event Schedule
Mar. 3rd 6pm PST - Mar. 17th 7:59am PDT
Rewards available until Mar. 18th 7:59am PDT
> Event Details
EVENT 1. Complete daily missions
Complete missions to get rewards every day!
[Daily mission gifts]
- 1 Mission Completed: 50 Energy
- 2 Missions Completed: 100,000 Mana Stones
- 3+ Missions Completed: One item among [Mystical Scroll x1], [Crystal x30] and [Summoning Stone x25] (Reward changes every day)
[Daily mission]
Clear a stage in Scenario 10 times
Clear a dungeon in Cairos Dungeon 15 times
Enter the Arena + Guild Battle 10 times
Enter the Rift Dungeons & Rift Raid + Tartarus' Labyrinth 10 times
* World Arena is excluded.
* For Tartarus' Labyrinth, the mission will count when you successfully attack a stage.
* Daily missions reset every day at 7am PST/ 8am PDT.
EVENT 2. Complete as many missions as possible
Get bonus rewards according to the no. of missions completed!
5 times: EXP Booster (12H)
10 times: 20 Ancient Coins
15 times: 3★ Rainbowmon
20 times: 30 Ancient Coins
25 times: 4★ Rainbowmon
30 times: Light & Darkness Scroll
* Please Read!
- 3+ Missions Completed reward changes every day among Mystical Scroll, Summoning Stones and Crystals at 7am PST/ 8am PDT.
- Daily mission completion rewards are available once a day and reset every day at 7am PST/ 8am PDT.
- You can complete up to 4 daily missions a day.
- For Cairos Dungeon mission, Secret Dungeon/ Hall of Heroes are excluded.
- The reward will be available for 24 hours after the event ends.
- Please restart the game if you're playing when the event begins to avoid any delays.
- Please try restarting the game if you don't see your reward at the Inbox.
- The duration and remaining time for the event will be displayed in the time zone of the area that you reside in.
- For questions or customer support, please contact our Customer Support by visiting http://www.withhive.com/help/inquire.
Thanks!