Event - 2019 New Year Event! Ellia's Fortune Cookie - 2019-01-06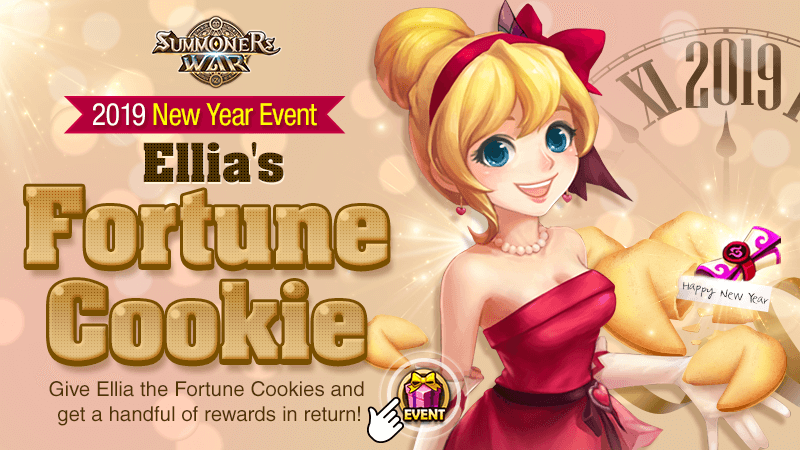 2019 New Year Event! Ellia's Fortune Cookie
Finish
2019-01-06T18:00 to 2019-01-20T06:59
Greetings from Com2uS!
Complete missions every day and gather Fortune Cookies!
Give Ellia the Fortune Cookies and get a handful of rewards in return!
> Event Schedule
Jan. 6th 6pm - Jan. 20th 6:59am PST
Rewards are available until Jan. 21st 6:59am PST
> Event Details
EVENT 1. Collect Fortune Cookies
Complete missions to get Fortune Cookies!
- Daily Rewards
Collect 1 Fortune Cookie: 50 Energy
Collect 3 Fortune Cookies: 50,000 Mana Stones
Collect 5 Fortune Cookies: 30 Crystals
- Mission Details
[Scenario]
Enter 10 times
Enter 20 times
Enter 30 times
[Cairos Dungeon]
Enter 10 times
Enter 20 times
Enter 30 times
[Arena + Guild Battle]
Enter 10 times
Enter 15 times
Enter 20 times
[Rift Raid & Dungeons + Tartarus' Labyrinth]
Enter 10 times
Enter 15 times
Enter 20 times
* The rewards can be collected once a day, and each day resets at 7am PST.
* For Tartarus' Labyrinth, the mission count will go up when you successfully attack stages.
EVENT 2. Give Fortune Cookies to Ellia
Give the Fortune Cookies to Ellia and get rewards in return!
5 Fortune Cookies: 1 EXP Booster (12H)
10 Fortune Cookies: 2 Mystical Scrolls
15 Fortune Cookies: 20 Ancient Coins
20 Fortune Cookies: 3 Attribute Scrolls (Water/Fire/Wind)
25 Fortune Cookies: 30 Ancient Coins
30 Fortune Cookies: 1 Reappraisal Stone
40 Fortune Cookies: 1 Light & Darkness Scroll
* Please Read!
- All missions in Event 1 will count retroactively.
- You can collect up to 5 Fortune Cookies a day.
- For Cairos Dungeon missions, Secret Dungeon and Hall of Heroes are excluded.
- The reward will be available for 24 hours after the event ends.
- Please restart the game if you're playing when the event begins to avoid any delays.
- Please try restarting the game if you don't see your reward at the Inbox.
- The duration and remaining time for the event will be displayed in the time zone of the area that you reside in.
- For questions or customer support, please contact our Customer Support by visiting http://www.withhive.com/help/inquire.
Thanks!