Event - April Fool's Day Surprise Event Notice - 2019-03-31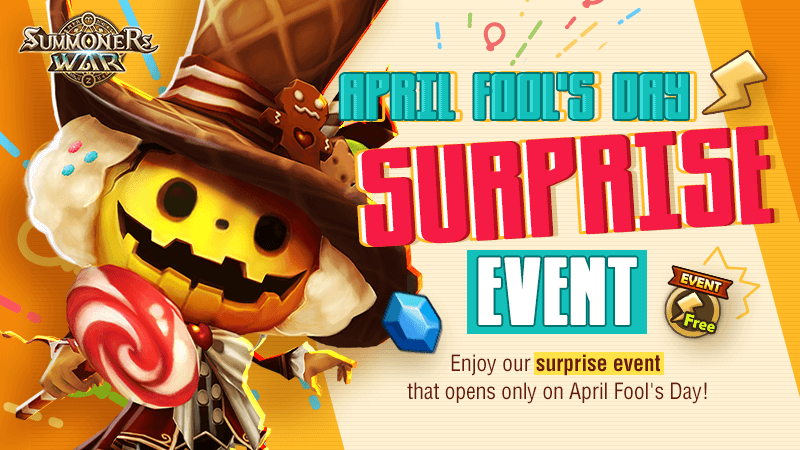 April Fool's Day Surprise Event Notice
Finish
2019-03-31T08:00 to 2019-04-02T00:00
Greetings from Com2uS!
Summoners War will be holding a special April Fool's Day Event!
For one day only! Enjoy the Free Energy Event and just log in to get Energy and Mana Stones.
Also, check out your Monsters that will be Transmogrified for this special occasion!
Please see below for more info.
Event 1. Log-in Reward Event
> Event: Apr. 1st 12am - 11:59pm (Based on Server Time)
> Event Details: Get Energy and Mana Stones!
100 Energy and 100,000 Mana Stones will be sent to the Inbox when you log in!
Event 2. Free Energy Event
> Event: Apr. 1st (Based on Server Time)
> Event Details: Twice on the event day! You won't have to spend your Energy!
[Free Energy Event Times]
1st) 11am - 12pm (1hr)
2nd) 10pm - 11pm (1hr)
> Free Energy Event will be applied to the following content.
- Scenario, Cairos Dungeon, Secret Dungeon, Rift Raid and Rift Dungeon
(Trial of Ascension/World Boss/Dimensional Rift/Tartarus' Labyrinth excluded.)
Event 3. April Fool's Special Transmogrification Event
> Event: Mar. 31st 8am - Apr. 2nd 12am PDT
> Event Details:
What a magical day!
Your Monsters will be transmogrified to celebrate April Fool's Day!
* Please Note!
- The special Transmogrifications will be applied only on Monsters that are available for Transmogrification.
- If a Monster has 2 or more Transmogrifications, the most recent Transmogrification will be applied.
- Transmogrifications given as World Arena Season rewards are excluded.
- Please note that you won't be able to cancel the Transmogrification while the event is being held.
- Please restart the game if you're playing when the event begins to avoid any delays.
- For questions or customer support, please contact our Customer Support by visiting http://www.withhive.com/help/inquire.