Event - Card X Card Event Notice - 2019-08-18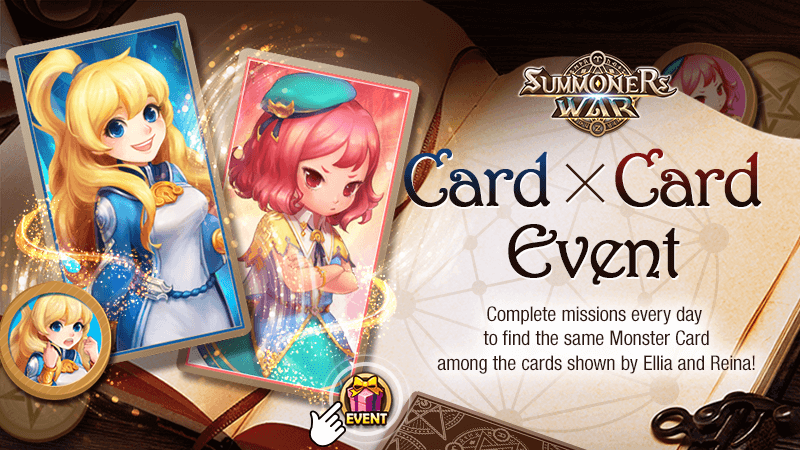 Card X Card Event Notice
Finish
2019-08-18T19:00 to 2019-09-01T07:59
Greetings from Com2uS!
Complete missions every day to find the same Monster Card among the cards shown by Ellia and Reina!
> Event Schedule
Aug. 18th 7pm - Sep. 1st 7:59am PDT
Rewards available until Sep. 2nd 7:59am PDT
> Event Details
Event 1. Complete missions and flip the card!
Complete missions from Ellia and Reina to flip and match the same card!
[Mission Details]
Ellia's Missions: Enter [Scenario / Cairos Dungeon / Dimension Hole / World Boss]
Reina's Missions: Enter [Arena / Guild Battle / Siege Battle / Rift Raid / Rift Dungeon / Tartarus' Labyrinth]
* Gameplay in all content will be accumulated and counted.
[Reward Details]
- Successfully find 1 correct match: 30 Energy
- Successfully find 2 correct matches: 50,000 Mana Stones
- Successfully find 3 correct matches: 20 Crystals
- Successfully find 4 correct matches: 30 Energy+50,000 Mana Stones+20 Crystals
Event 2. Get bonus rewards according to the accumulated no. of correct matches you find!
3 times: EXP Booster (12H)
5 times: 20 Ancient Coins
10 times: 2 Mystical Scrolls
15 times: 3★ Rainbowmon x3
20 times: 30 Ancient Coins
25 times: 1 Reappraisal Stone
30 times: 3 Attribute Scrolls (Fire/Water/Wind)
EVENT 3. Get bonus accumulated counts based on the no. of collected Crystals!
Get 3 additional accumulated no. of correct matches whenever you collect 300 / 500 / 1,000 Crystals during the event!
(Up to 9 additional counts can be added)
Please Read!
- Entering Dimension Rift for Scenario mission, Secret Dungeon for Cairos Dungeon, and World Arena for Arena won't count.
- For Tartarus' Labyrinth, the mission will count when you successfully attack a stage.
- You can complete each mission only once a day.
- Missions, cards, no. of available card flips, and no. of cards flipped will reset every day at 8am PDT.
- For Event 1, rewards will be sent to the Inbox when you find the correct match.
- You can't change your decision and re-select the card if you've already selected one.
- The accumulated no. of correct matches you find will be counted in real-time and displayed in Event 2.
- The reward will be available for 24 hours after the event ends.
- Please restart the game if you're playing when the event begins to avoid any delays.
- Please try restarting the game if you don't see your reward at the Inbox.
- The duration and remaining time for the event will be displayed in the time zone of the area that you reside in.
- For questions or customer support, please contact our Customer Support by visiting https://www.withhive.com/help/inquire.