Event - Daily Refund Event - 2018-03-25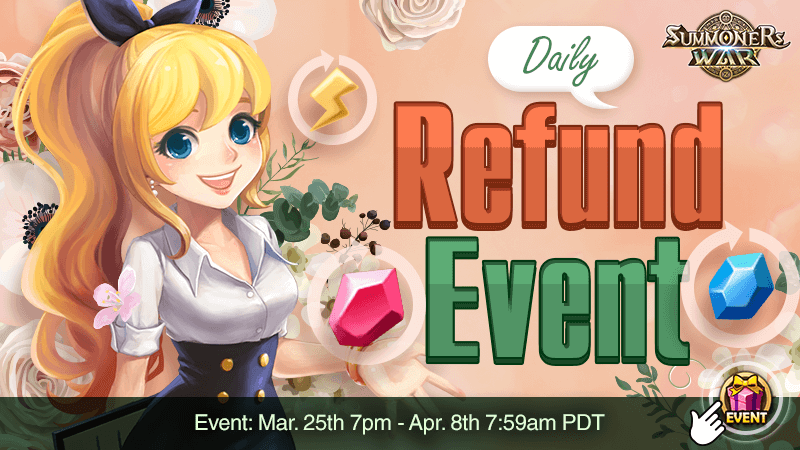 Daily Refund Event
Finish
2018-03-25T19:00 to 2018-04-08T07:59
Greetings from Com2uS!
Daily Refund Event will be available soon!
Get refunds for Energy, Mana Stones and Crystals you use every day during the event!
> Event: Mar. 25th 7pm - Apr. 8th 7:59am PDT
> Event Details:
Event 1. Get refunds every day!
50 Energy! 50,000 Mana Stones! 30 Crystals!
Get refunds for the amount you use every day!
* Participation is limited to once a day per reward.
Event 2. Get refunds, get rewards!
Get rewards according to the number of refunds (5/10/15/20 times)!
5 times: 1 Mystical Scroll
10 times: 50 Summoning Stones
15 times: 2 Mystical Scrolls
20 times: 1 Reappraisal Stone
* Limited to only once.
* Rewards will be sent to the Inbox instantly.
Please Read!
- You must use 50 Energy/50,000 Mana Stones/30 Crystals every day to get refunds.
- Tap the [Collect Energy]/[Collect Mana Stones]/[Collect Crystals] Buttons to collect the reward at the Inbox.
(Limited to once a day per reward)
- The event page record will reset every day at 8am PDT.