Event - SWC 2018 World Finals Streaming Event Notice - 2018-10-12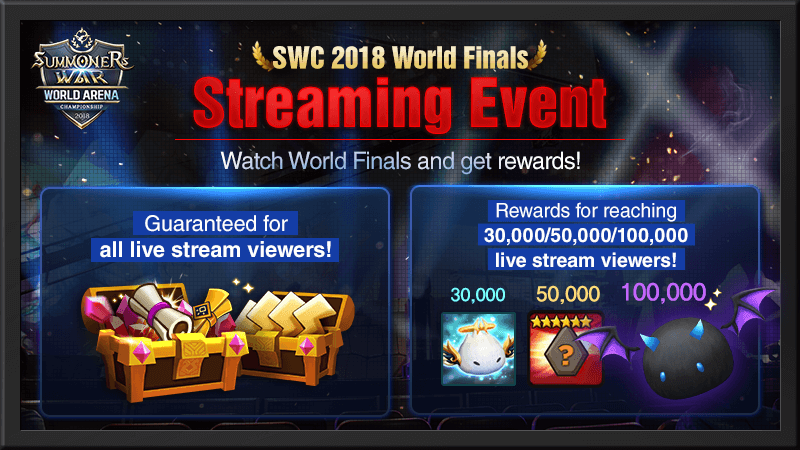 SWC 2018 World Finals Streaming Event Notice
Finish
2018-10-12T20:00 to 2018-10-13T20:00
Greetings from Com2uS!
On Oct. 12th 8pm PDT!
The World Finals of SWC 2018 is coming!
A total of 8 Summoners who survived from each regional tournament will have the final battle in Korea!
Please tap the link below to find out more about the info of our 8 finalists.
[SWC 2018 World Finals Pre-Notice]
This time, we've prepared a special streaming event for Summoners who will be watching SWC 2018 via live stream!
Before that, make sure to subscribe to our eSports channel on YouTube to get notifications for SWC 2018!
[Subscribe to Summoners War e-Sports YouTube Channel]
[SWC 2018 Streaming Event Notice]
1) For all live stream viewers! Rewards guaranteed!
We'll be giving out the following rewards for all viewers!
* Above rewards will be given via coupon codes. Coupon codes will be revealed in order during live streaming, so stay tuned!
2) Live Stream Viewer Achievement Reward!
Special rewards will be given when we reach the following no. of viewers!
30,000 Viewers: Super Angelmon x1
50,000 Viewers: 6★ Legend Rune
100,000 Viewers: Devilmon x1
* We'll put up another notice regarding whether we've reached the designated no. of viewers and details about the reward distribution after the SWC 2018 World Finals ends.
We once again appreciate all of your support and interest in SWC 2018.
Thank you!