Update - v3.5.1 Update Notice - 2017-07-26
v3.5.1 Update Notice
Active
Version:3.5.1
2017-07-26T00:00
Greetings from Com2uS!
Summoners War has been updated to v3.5.1.
Please see below for more info on the update.
* Please note that the actual update will be applied via the maintenance for auto update. (Both iOS & Android)
* Please check the maintenance details for more info.
=======================
v3.5.1 Update Details
=======================
Special Transmogrification Themes, Vacation at the Beach, have been added.
- New transmogrifications for 5 Monsters, [Beach Girl Desert Queen/Beach Girl Occult/Beach Girl Oracle/Beach Girl Kung Fu Girl/Beach Boy Brownie Magician], have been added.
New [Rune Manage] Feature has been added. (Monster>Icon on the left of the Rune List)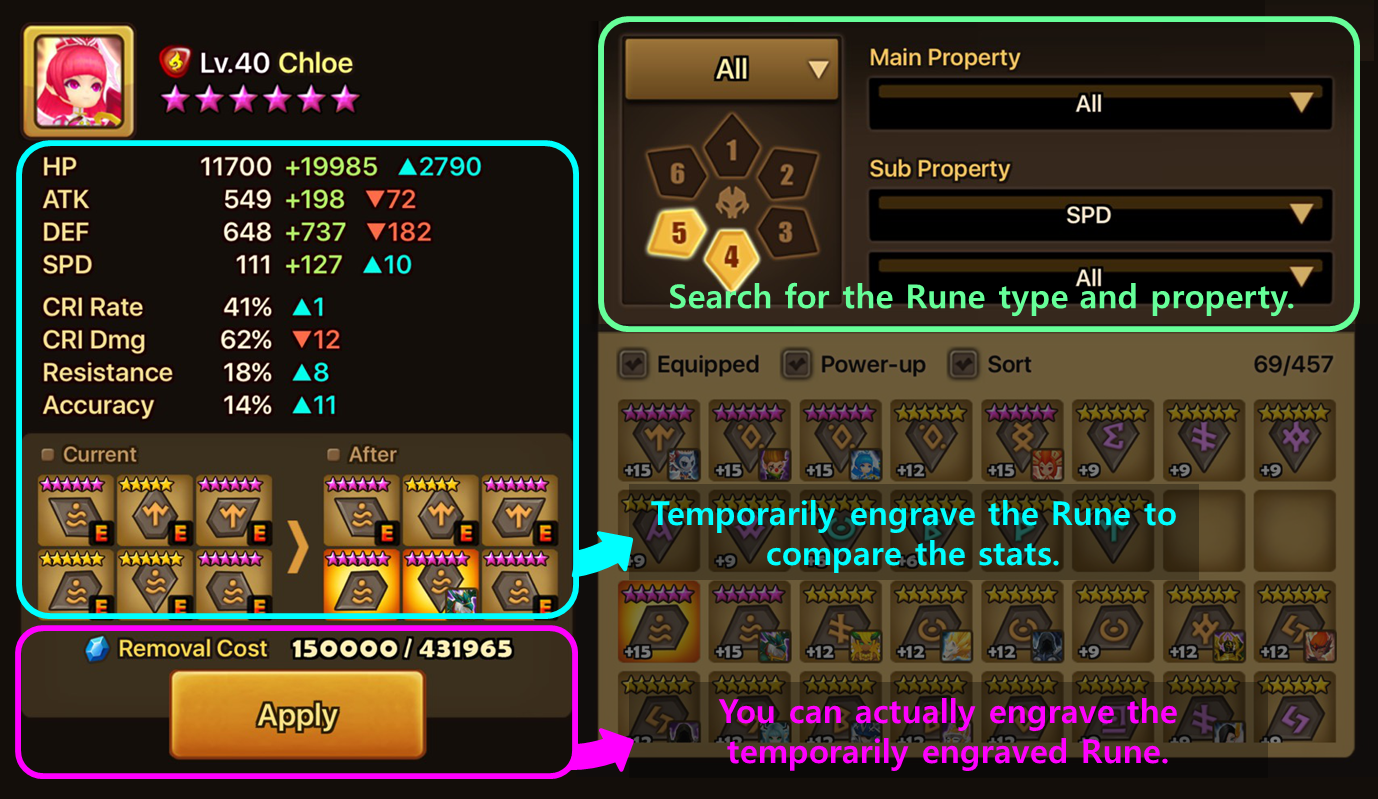 - Rune Search: You can select the types and properties of the Rune to search for. You can also include Runes that are equipped on other Monsters and display the stats that increase.
- Temporary Engrave: You can compare changes in stats before and after temporarily engraving the Runes with the "Engrave Temporarily" Button. Increased stats will be shown in blue while decreased stats will be shown in red.
- Apply Changes: You can actually engrave Runes that are temporarily engraved. Runes currently equipped on the Monster will be removed and you'll have to pay for the removal cost.
New [Monster Search] Feature where you can search for the Monster's leader skill/beneficial effect/harmful effect has been added. ([Search] Button on the top-right of the Monster Collection Page).
A new invite notification UI has been added so that you can instantly accept/reject the invite to the World Arena (Goodwill Contest) and Rift Raid from the UI. (The notification won't be displayed under certain circumstances, including the real-time gameplay.)
Some Mana Stone related packages have been renewed.
- The amount of Mana Stones available from the Mana Stone Pack at the [Shop]>[Package] has been increased.
: Mana Stone Pack III (Previously) 2,000,000 Mana Stones -> (Changed to) 2,100,000 Mana Stones
: Mana Stone Pack IV (Previously) 4,000,000 Mana Stones -> (Changed to) 4,500,000 Mana Stones
* The above modification will be applied starting Aug. 1st 12am. (Based on server time)
[iOS] You'll now be able to download additional resources in the background without having to stay in the download screen. (For iOS 8.0 or above)
Bug Fixes
- The issue of Wind/Dark Dragon Knight's defense ignoring effect not being applied correctly when the Monster's [Torrent] skill is used while the Monster's HP is at 30% under very special circumstances has been resolved.