Update - v3.5.4 Update Notice - 2017-08-30
v3.5.4 Update Notice
Active
Version: 3.5.4
2017-08-30T00:30
Hi, it's Com2uS!
Summoners War v3.5.4 has been updated. Please check below for details!
* The actual update will be applied through an auto update during the maintenance. (Android/iOS)
* Details can be checked through the maintenance notice.
=====================================
v3.5.4 Update Details
=====================================
Some skills have been balanced.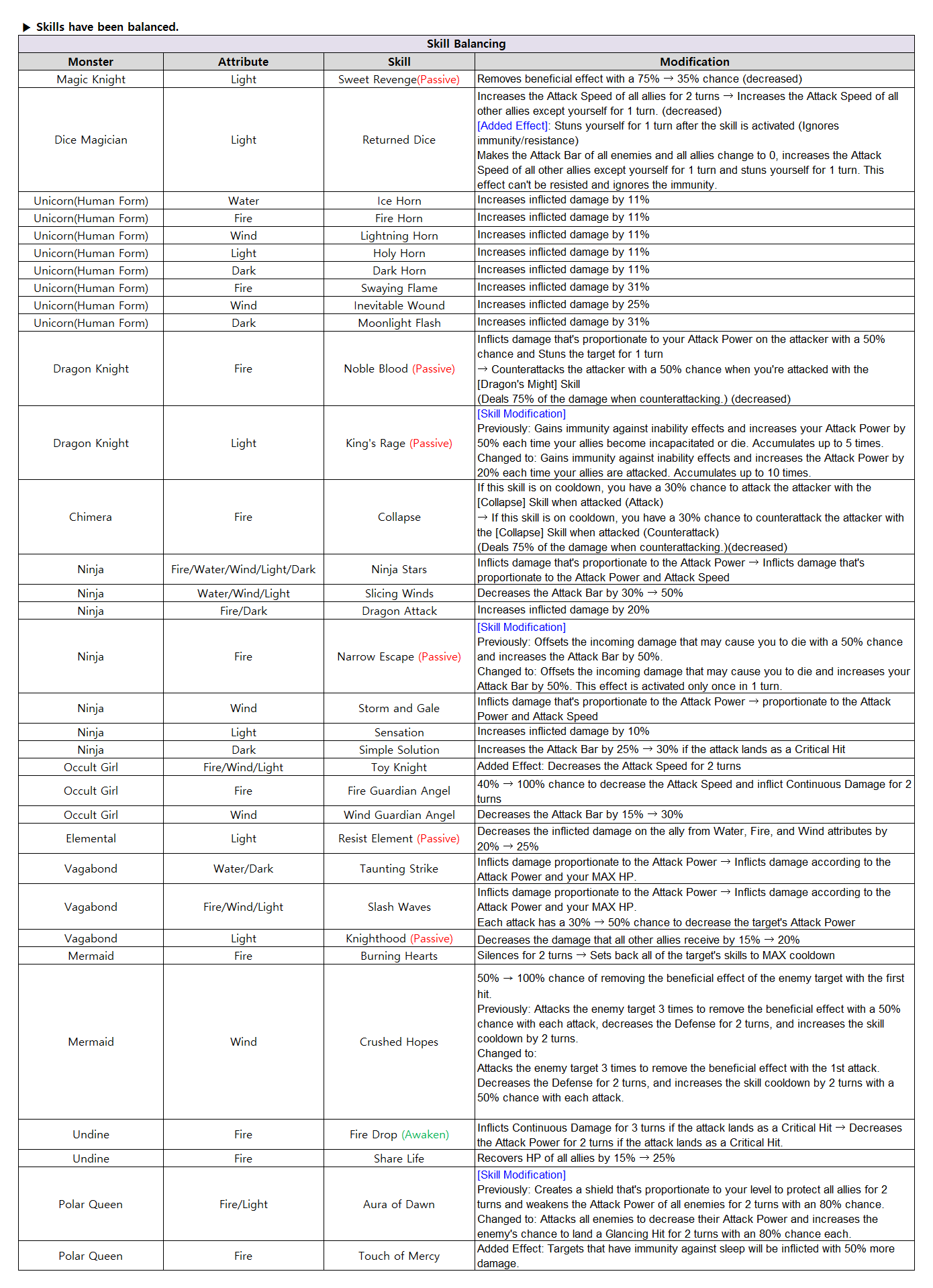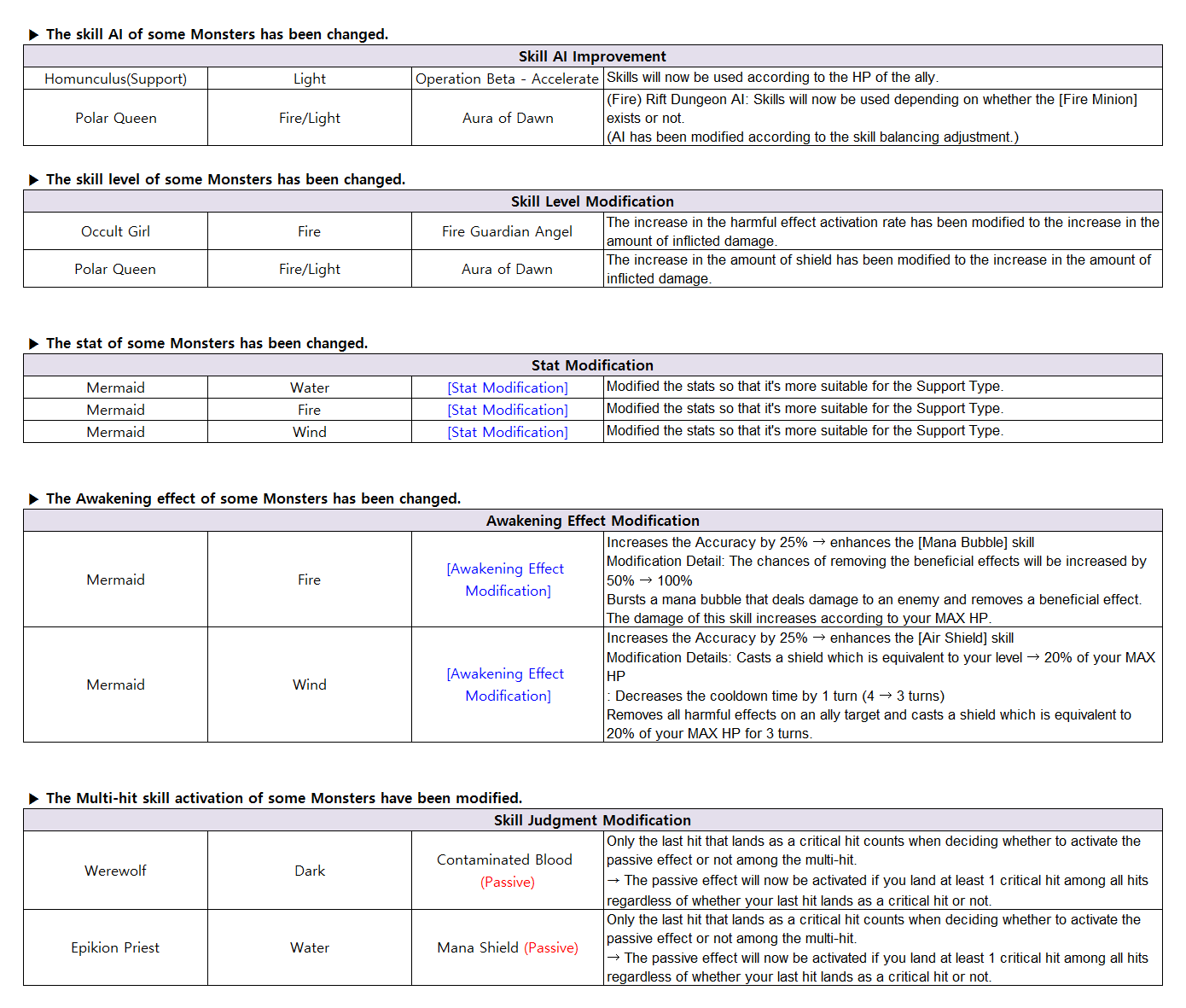 5 new items that can be purchased with Crystals have been added at the [Shop]-[Special].
1) EXP Building Booster - The EXP production rate of the Buildings that produce EXP will be increased by 3 times for 7 days.
2) Attribute Dungeon Open - The selected attribute dungeon will be open for 3 hours regardless of the day.
3) Attribute Secret Dungeon - One of the secret dungeons of the attribute dungeon per day will be open randomly.
* On the days that the Attribute Dungeons don't open (Fri/Sat), it won't appear on the item list. You'll be able to check the Monster types for the Secret Dungeon which can be opened in the Attribute Dungeon per day by tapping the Available Monster(s) Button ("?" Button) in the pop-up that appears when you tap the item.
4) Dimensional Crystal - Used to enter the Dimensional Rift and can be purchased up to 20 times a day. (3 Dimensional Crystals given for each purchase)
5) Essence of Magic Pack - Essences of Magic (Low/Mid/High) which are used to Awaken Monsters can be purchased.
The [Rune Manage] feature has been improved.
- You can now select a Monster stored in the Monster Storage to manage the Runes. (Tap the top-left Monster thumbnail in the Rune Manage -> Monster selection screen -> Monster Storage Button)
- You can now compare stats when temporarily engraving Runes based on 100% if the CRI Rate/Resistance/Accuracy exceeds 100%.
(Ex: If the Resistance of the currently engraved Rune is 130% and the Resistance of the temporarily engraved Rune is 90%, the stat will now be displayed as 10 whereas it used to be displayed as 40 previously.)
A new effect will be displayed when the activation condition of a specific skill is met.
(The effect won't be displayed for skills that are under cooldown time even if the condition is met.)

New Welcome Back Package has been added. (For dormant users who don't have a record of accessing the game for 30 days or more)
Some bugs have been fixed.
- An issue of the notice pop-up appearing incorrectly when the [World Arena] Goodwill Contest ends has been resolved.
- An issue of the letters not being entered even though the entered letters didn't exceeded the MAX no. of letters on [Android] has been resolved.
- An issue of Reina's tutorial being proceeded while installing Buildings has been resolved.
The description of some monster skills have been changed.