Update - v3.5.9 Update Notice (Modified) - 2017-09-28
v3.5.9 Update Notice (Modified)
Active
Version:3.5.9
2017-09-28T03:30
Greetings from Com2uS!
Summoners War has been updated to v3.5.9!
Please see below for more info.
* The actual update will be applied with the maintenance for the auto update. (Simultaneously on both Android/iOS)
* Please check the Maintenance Notice for more info.
======================================
v3.5.9 Update Details
======================================
New Monster [Paladin]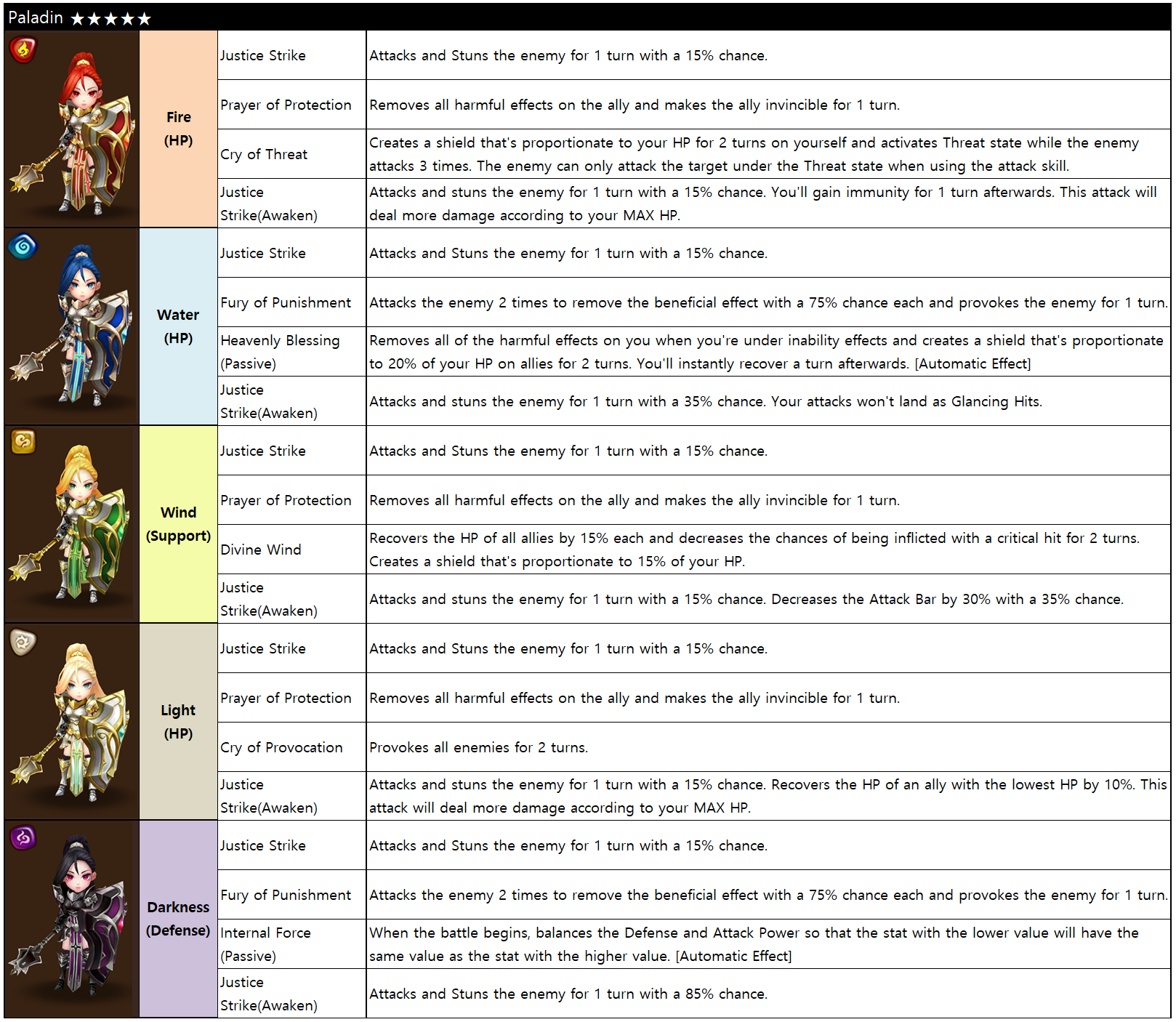 New Fusion Recipes for Light Paladin (5 Stars)/Fire Harp Magician (4 Stars)/Water Samurai (4 Stars) have been added in the Fusion Hexagram.
5 Stars Fusion Monsters will no longer be acquired via Monster Summoning/acquisition at the [Summonhenge/Temple of Wishes].
- Water Phoenix/Wind Valkyrja/Fire Panda Warrior/Light Paladin/Dark Ifrit can only be acquired via Monster Fusion.
The [World Arena] Season 2 has ended.
- We appreciate your participation and support for the 2nd season of World Arena. We'll be back with better content, soon!
[Reward-related Tallying Schedule]
Results will be tallied during 9/27 11pm - 9/28 5am PDT.
: Your Victory Points will be reset as the season ends.
: Winners of Season 2 will be added at the Hall of Fame Menu.
: The season reward according to the grade will be sent to the Inbox when you access the game after 9/28 5am PDT.
A [Special League] which will proceed as 20 Star Battle will begin at the [World Arena].
- 20 Star Battle is a battle where the sum of the default star grade (Star) of selected Monsters can't exceed 20.
- Special League Schedule: Sep. 29th 12am - Oct. 12th 8am PDT
[Magic Knight]'s skills have been balanced.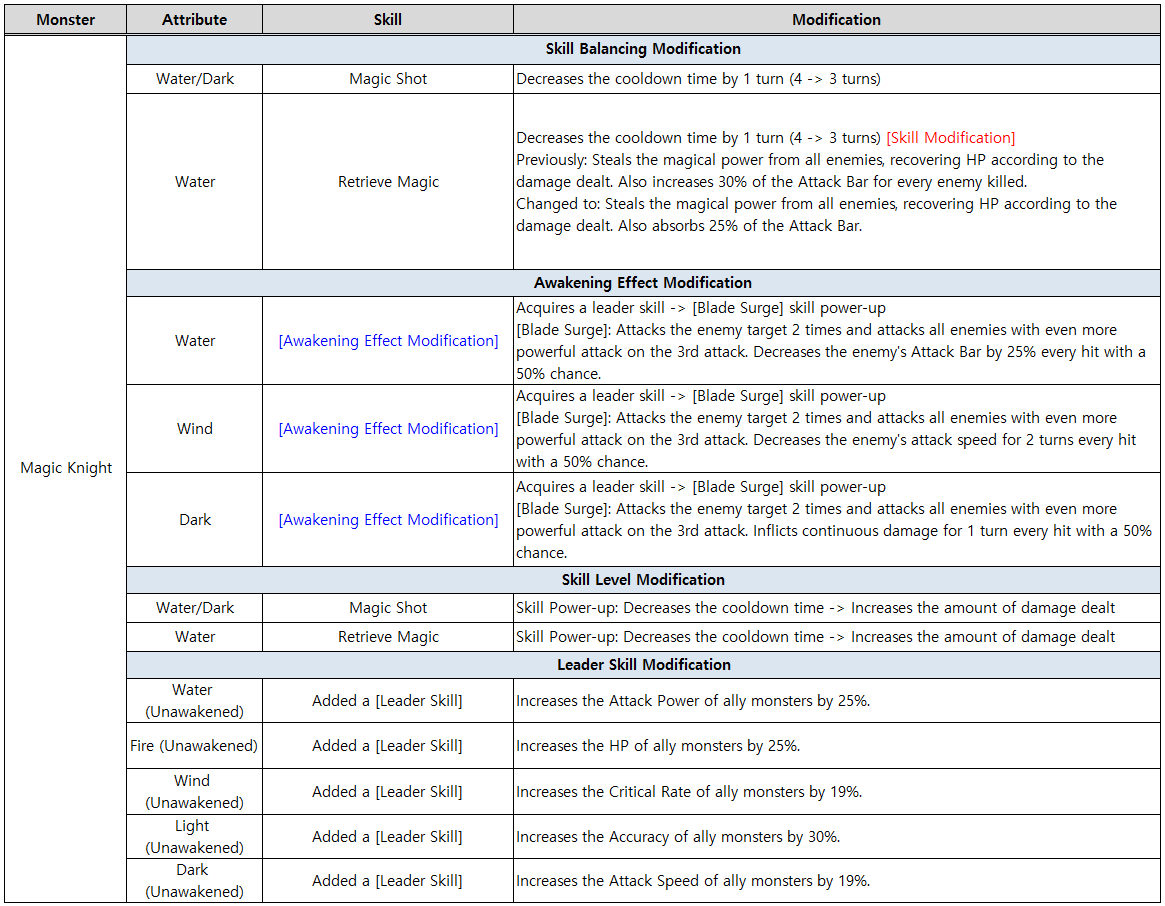 [Challenge] A new Level Up Reward Menu has been added where you can collect rewards according to your account level.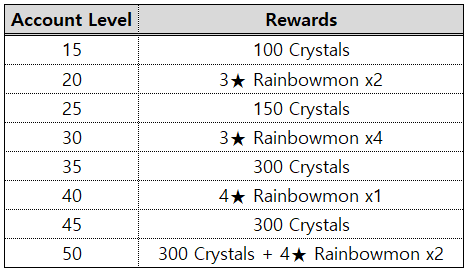 * The previous achievement record (Reaching Account Lv. 15/25/35/45/50) has been moved and new rewards for reaching Account Lv. 20/30/40 have been added.
* 4 Stars Rainbowmon x2 will now be available for those who reach Account Lv. 50. If you've already reached Lv. 50 and collected the reward before, the new reward (4 Stars Rainbowmon x2) will be sent to the Inbox after the update.
[Rune Manage] Feature Improvements
- You can now sort your Runes in the order of the stat value (high->low) by selecting either the main property or subproperty.
New Master Pack
: You can purchase the package only once per account and the new package will only be shown to those who've reached Account Lv. 50.
: If you've already reached the designated account level, the package will be available for purchase for 15 days from the sale starting date.
Bug Fixes
- (Fire) Mermaid [Burning Hearts]: An issue of the harmful effect activation increase rate according to the skill level not being applied properly upon using the skill has been resolved.
- [Necropolis] An issue of the Rune effect being applied on Ancient Lich King or allies that are under the Imprison Soul effect when there's a Monster equipped with a Rune among Fight/Determination/Enhance/Accuracy/Tolerance Runes has been resolved.
- An issue of some Monsters not being shown on the list when you try to use the Forbidden Evolution Scroll while having a lot of target Monsters has been resolved.
- An issue of the grade (color) of the Rare Rune Item Image being shown as High Rune grade (color) on the Welcome Back Package Pop-up has been resolved.
The description of some monster skills have been changed.