Update - v3.6.0 Update Notice - 2017-10-16
v3.6.0 Update Notice
Active
Version:3.6.0
2017-10-16T03:30
Greetings from Com2uS!
Summoners War has been updated to v3.6.0!
Please see below for more info.
* The actual update will be applied with the maintenance for the auto update. (Simultaneously on both Android/iOS)
* Please check the Maintenance Notice for more info.
======================================
v3.6.0 Update Details
======================================
Live Battle with Summoners from all around the World! [World Arena Season 3] Now Open
- The 3rd season of the World Arena will be available starting Oct. 16th 1am PDT for all servers!
- Please read below for the changes in the new season.
[Grade]
- Victory Point/Rank condition will be modified as follows.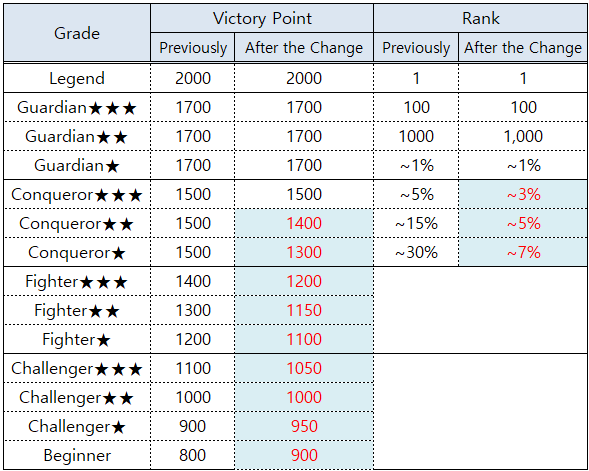 * This adjustment has been made based on the gameplay data of those who participated in both season 1 & 2.

[Reward]
- Users who didn't complete the Placement Battle will no longer be able to acquire the Season Reward.
New items have been added to the Season 3 Reward/World Arena Shop.
- Below is the list of season rewards.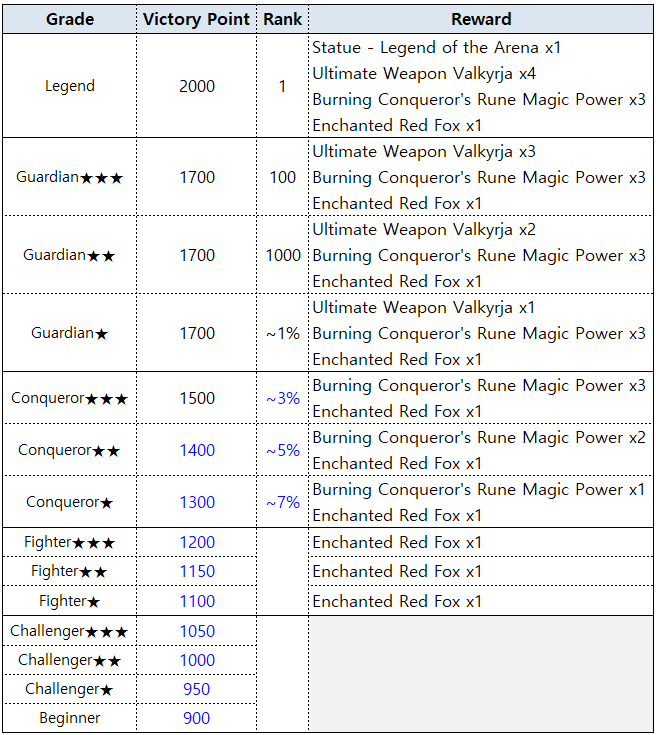 * You can't transmogrify [Ultimate Weapon Valkyrja] with Shapeshifting Stones.
- The following items have been added to the World Arena Shop.
: 2 Ellia's Rides, [Armed Yellow Horn Armor/Armed Blue Horn Armor], have been added.
: A new transmogrification item, [Flying Feathers], has been added.
The grade of the Rainbowmon that's given when users purchase the Devilmon Package has been increased.
- (Previously) 3 Stars Rainbowmon (MAX Lv.) x2
- (After the Change) 4 Stars Rainbowmon (MAX Lv.) x2
* The above modification will be applied to Devilmon Packages that will be sold starting the end of October.
[Monster Debate] The Monster Debate posts that were divided into before/after the transformation will now be combined.