Update - v3.7.7 Update Notice - 2018-01-29
v3.7.7 Update Notice
Active
Version:3.7.7
2018-01-29T22:30
Hi, it's Com2uS!
Summoners War v3.7.7 has been updated. Please check below for details!
* The actual update will be applied through an auto update during the maintenance. (Android/iOS)
* Details can be checked through the maintenance notice.
=====================================
v3.7.7 Update Details
=====================================
> Monster Skill Balancing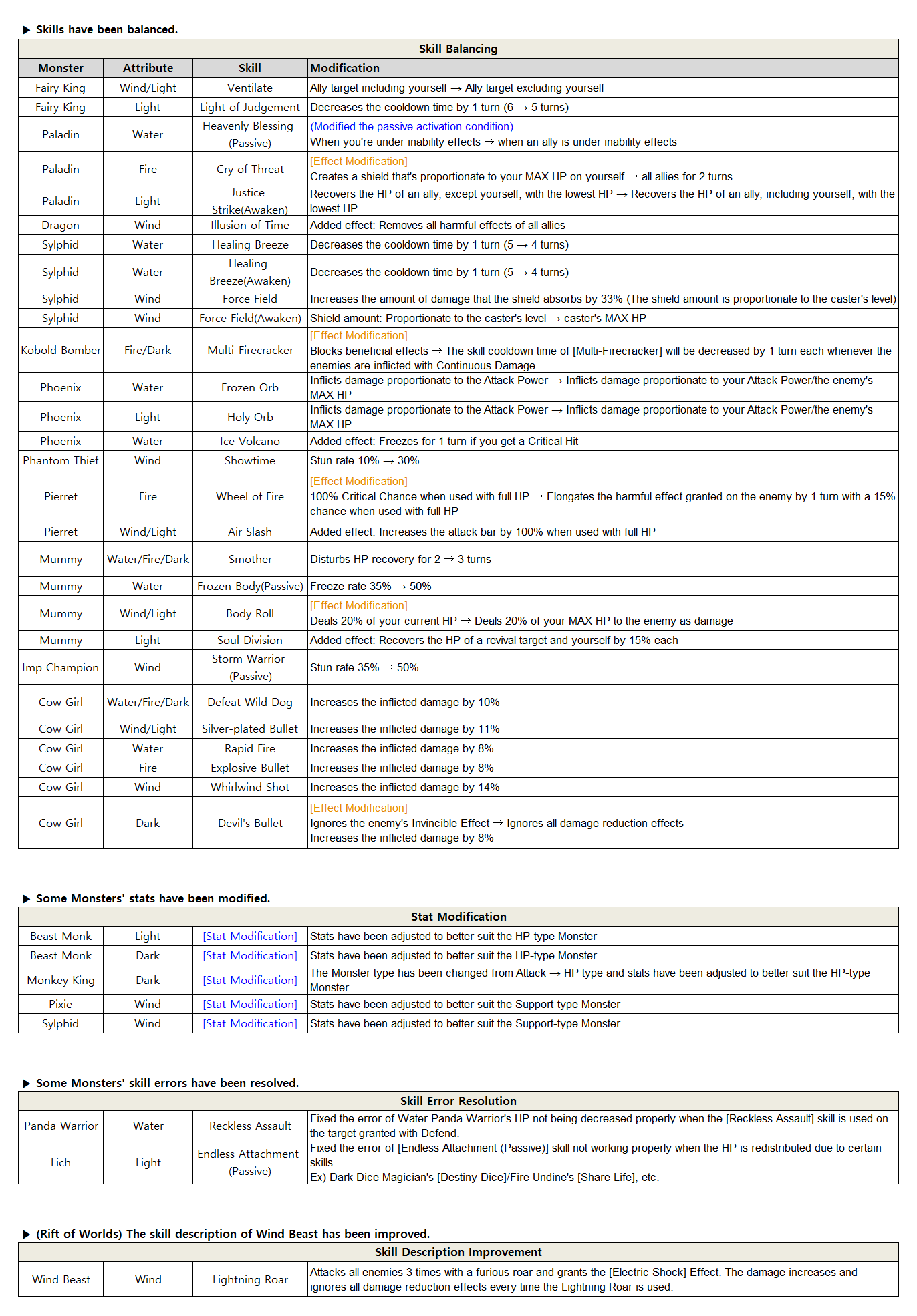 > [Siege Battle] Improvement
- You can now check detailed info of Runes and defense base Monsters that are registered to the HQ. (Base> HQ Support_Tap and hold the defense base that you want to check.)
- You can now view the Siege Battle Map at a glance with the new zoom-in/zoom-out feature.
- (Siege Battle Chat) A notice will now be displayed on the chat when a Summoner contributes to a battle greatly. (When a user successfully attacks/defends consecutively/successfully isolates the opponent Guild's base consecutively/successfully saves his or her Guild from being isolated)
> [Monster Slot]/[Monster Storage] Modification
[Monster Slot]
- The MAX no. of Monster Slots provided by default has been increased from 100 to 120.
* Please expand your Monster Slots to use extra slots added with this update. The cost for expanding slots 1 time is as follows. (1 expansion-> 10 slots)

[Monster Storage]
- You can now view 4 -> 5 lines of Monsters according to your device resolution.
- A new sorting standard where you can view Monster grade in reverse order has been added. (Top-left of the Monster Storage)
> Other Improvements
- (Buildings where you can place your Monsters) You can now view Monsters that are currently placed in the building first in the "Place Monsters" list.