Update - v3.8.1 Update Notice (Content Added) - 2018-03-29
v3.8.1 Update Notice (Content Added)
Active
Version:3.8.1
2018-03-29T01:30
Hi, it's Com2uS!
Summoners War v3.8.1 has been updated. Please check below for details!
* The actual update will be applied through an auto update during the maintenance. (Android/iOS)
* Details can be checked through the maintenance notice.
=====================================
v3.8.1 Update Details
=====================================
> [Arena/Guild Battle/Siege Battle] A new feature where you can record and/or share gameplays via social network has been added.
: Capture some of your gameplays and save it as a video.
: Tap the [Replay] Button at the top of battle end screen to play the battle replay from the beginning to record.
The recorded video can be saved on your device or you can share it on social network.
* The feature is available on devices of iOS 9.0 or later/ Android 6.0 or later.
> [Fuse Center] The amount of Mana Stones required to fuse Essences has been greatly decreased as follows.

> [Cairos Dungeon] The no. of entries to the Secret Dungeon has been increased from 10 users to 20 users.
> [Shop > Special] Angelmons included in the Summoner/Premium Packs will now be given as Awakened Angelmons.
* This modification will be applied to purchases made after v3.8.1 update patch releases.
> [Chakram Dancer/Boomerang Warrior] Skill balance modifications have been made.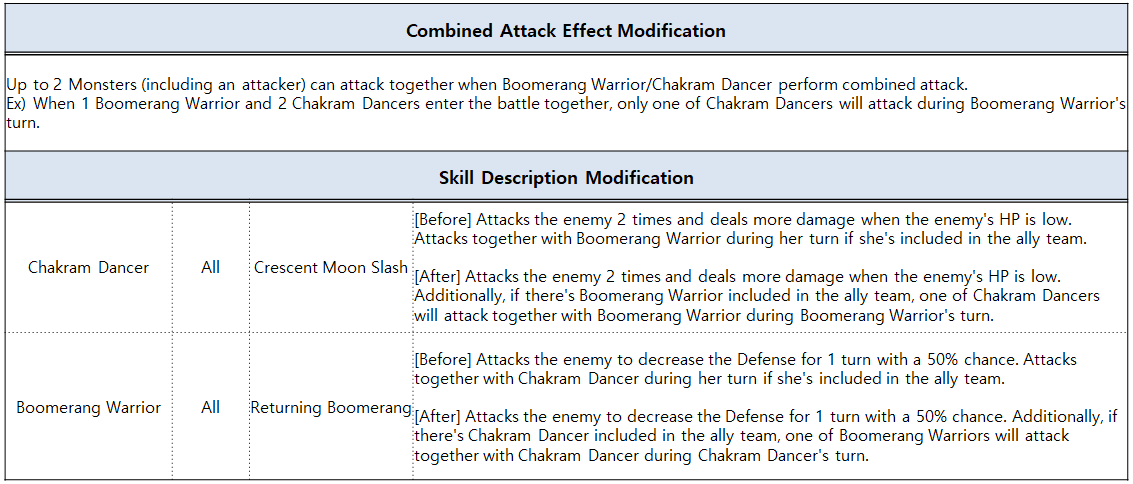 > [iOS] The game now supports iPhone X resolution.
> UI Improvements
- [Monster > Awaken] A color has been added to emphasize the Awakened Monster's name.
- [World Arena] The UI of profile picture flag info has been improved.
> Bug Fixes
- Fixed the issue of camera zoom-in effects being unnaturally displayed with certain monster skill effects.
- Fixed the issue of the chat notification not being displayed when you Evolve [Chakram Dancer/Boomerang Warrior] monsters.
- Fixed the issue of the [Dungeon Debate] menu not being displayed in the Rift of Worlds.
> [Summonhenge] An info page with acquisition rate of monsters in each category has been added. (Bottom-left of the Summonhenge)
> [Temple of Wishes] An info page with each item's acquisition rate has been added. (Bottom-left of the Temple of Wishes)
> The description of some monster skills have been changed.

> [Shop] > [Package] Package items have been renewed.
- Some packages that were available twice a month will now be available three times a month.
: Awakening Pack / Rune Removal Pack / Summoning Stone Pack I,II,III,IV / Light & Dark Pack I,II,III,IV / Mana Stone Pack I,II,III,IV / Rune Pack I,II,III
- The modification will be applied starting Apr. 1st 12am. (Based on server time)