Update - v3.8.4 Update Notice - 2018-04-16
v3.8.4 Update Notice
Active
Version:3.8.4
2018-04-16T01:30
Hi, it's Com2uS!
Summoners War v3.8.4 has been updated.
Please check below for details!
* The actual update will be applied through an auto update during the maintenance. (Android/iOS)
* Details can be checked through the maintenance notice.
=====================================
v3.8.4 Update Details
=====================================
> A real-time strategy battle among all Summoners! [World Arena] Season 5 will begin.
- The World Arena (Season 5) will start on Apr. 16th 1:30am PDT on all servers.
- Rewards for Season 5 are as follows.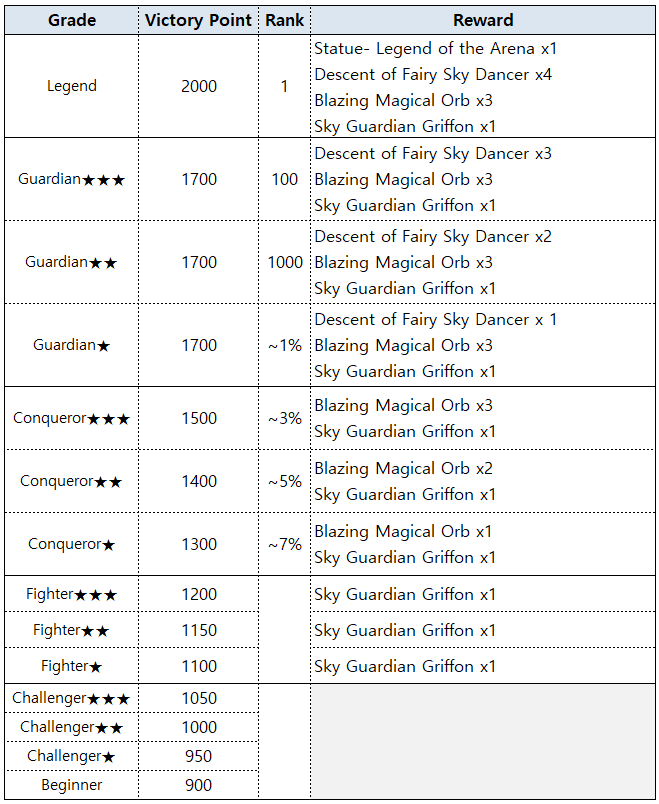 * You can't transmogrify [Descent of Fairy Sky Dancer] with Shapeshifting Stones.
> [Rune Power-up Reappraisal] Improvement
- A new UI that shows the default grade of the Rune has been added to the Rune Reappraisal Screen so that you can check the default grade of Legend Runes that have been powered up to +12 more clearly.
> [Siege Battle] Improvement
- "Time Remaining" of bases that are being rebuilt will now be displayed at a different spot.
- You can now check the defense record of bases that are being rebuilt.
> UI Improvement
- The chat window will now be kept without being closed in the battle result screen.
- [Monster Menu] The current scrolling info will now be kept in the same spot even after the Monster Awakening.
- [Power-up Circle] Monsters will now be sorted based on the Monster grade, attribute, default star grade and so on to be shown more effectively. (Sorting based on Monster Level/EXP has been excluded.)
- [Record/Share Replay] You'll now be able to view loading screens that match the battle during replay.
- [World Arena] The position of ally Monsters being placed in the battle has been changed.
- [World Arena] The order of the enemy Monsters being placed has been changed from the right to the left side [based on the Pick].
> Bug Fixes
- [Rift Dungeon] An issue of the Leader Monsters being checked multiple times under certain circumstances has been resolved.
- (Wind/Light) Fairy King [Ventilate]: An issue of Fairy King casting the [Ventilate] skill on himself in Rift Dungeon auto battles has been resolved.
- An issue of the game not responding even if you tap the screen when you return to the game after tapping the Home Button because your device went into Sleep Mode during the game has been resolved.
> [Shop Package] Daily Pack Renewal
- Items available from Daily Packs have been renewed as follows.

* The above will be applied to Daily Packs purchased after the v3.8.4 update. For Daily Packs purchased prior to the update, previous items (before the update) will be sent for the remaining period.
> (Ride) Effects of Flame War Horse and Frost White Horse have been improved.
> An issue of the Arena Legend Weekly Reward (Light Neostone Agent) being incorrectly displayed as an Awakened version has been resolved.