Update - v4.0.0 Update Notice - 2018-07-20
v4.0.0 Update Notice
Active
Version:4.0.0
2018-07-20T01:30
Hi, it's Com2uS!
Summoners War v4.0.0 has been updated.
Please check below for details!
* The actual update will be applied through an auto update during the maintenance. (Android/iOS)
* Details can be checked through the maintenance notice.
* You will be downloading a large amount of files additionally due to massive update.
We highly recommend you to download additional files in Wi-Fi condition.
=====================================
v4.0.0 Update Details
=====================================
> [New Guild Content] Tartarus' Labyrinth
Explore the labyrinth with Guild Members! Your Guild has two weeks to find and defeat the Guardians of Labyrinth and the Ruler of Labyrinth!
- Labyrinth Location: Tartarus' Labyrinth is located next to the Isle of Conquest in World Map.
- Qualification: All Guild Members who are affiliated to a Guild can participate.
* Guild Members who joined the Guild after the labyrinth has been opened can participate after midnight of the day that they joined the Guild.
- Exploration Schedule: You can explore a labyrinth for 2 weeks once the labyrinth is opened.
- Battle Rules: You can battle 3 times a day. The battle count won't be deducted if you lose in a battle, and the battle count will be deducted only when you win in a battle.
- Battle Rewards: You can acquire a Battle Reward (a random reward among Rune/ Grindstone/ Enchanted Gem Boxes) whenever you win a battle in each stage.
- Labyrinth Clear Reward: When your Guild defeats Tartarus, the Ruler of Labyrinth, you can acquire Labyrinth Exploration Reward Box(es). You can get Immemorial Grindstone, Immemorial Gem and many other rewards from the box.
- Check the developer's notes for the detailed information: [1 - Labyrinth Introduction] [2 - Labyrinth Battle] [3 - Labyrinth Reward]
* We'd like to follow up with some of the Labyrinth Bosses' skills that have changed from the ones shared in the previous developer's note. We ask for your kind understanding.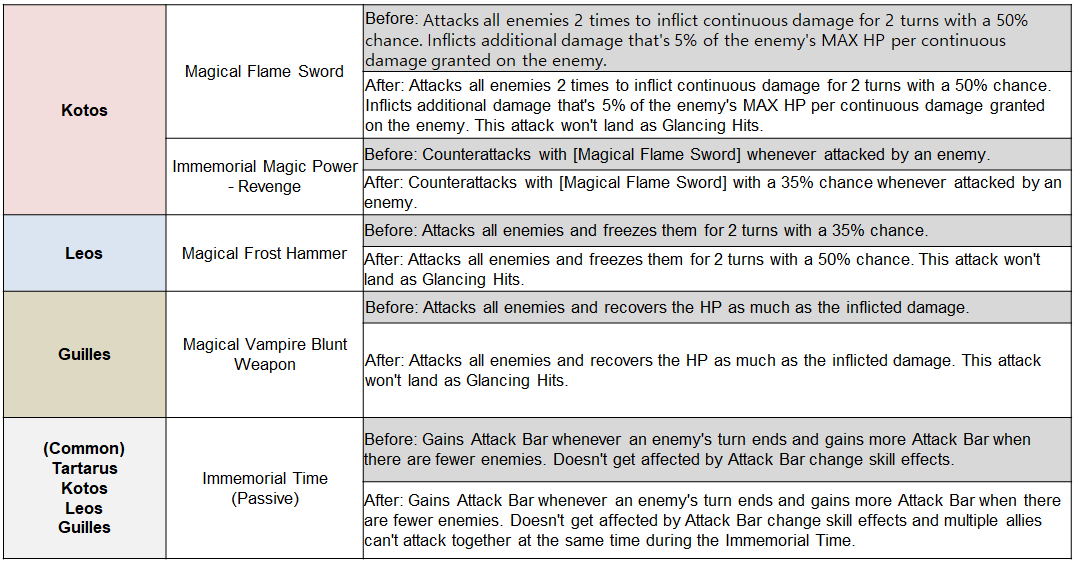 > [Guild] Content Improvement [Community > Guild > Guild Achievements]
* A Guild Level feature has been added.
: You can increase your Guild's level by completing Guild Achievements. As your Guild's level goes up, your Guild will receive more guild benefits. The maximum Guild level is Lv. 30.
* Variety of Guild Achievements have been added.
: You can achieve common goals with Guild Members to increase the Guild level and earn a variety of individual rewards and Guild Achievement Points.
* 7 Guild Skills have been added.
: Guild Skills are special effects that will be applied to all the Guild Members. The higher your Guild level is, the more variety of Guild skill effects you can be granted with.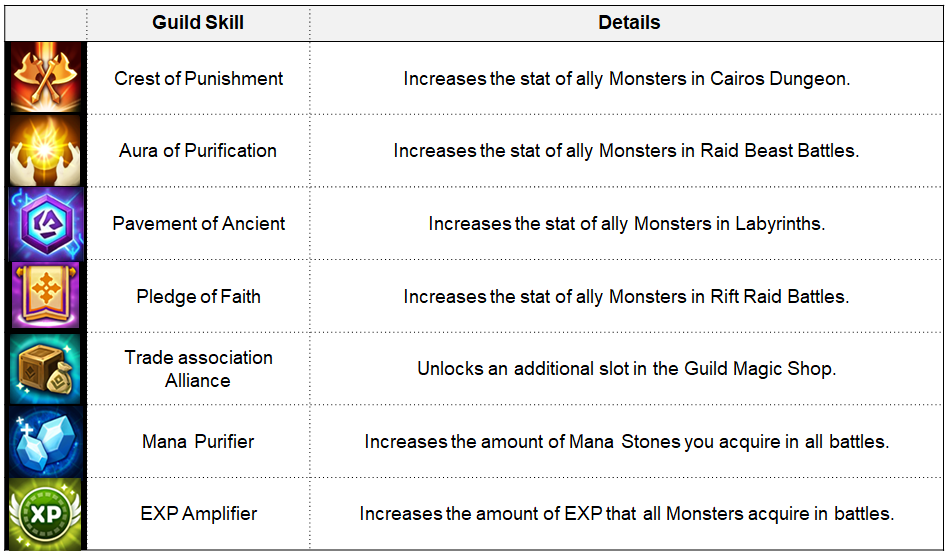 * A Guild Check-in feature has been added.
: [Community > Guild > Check-in at the bottom]
: You can earn a check-in reward once a day, and the check-in reward will be decided based on the number of Guild Members checked in on the previous day.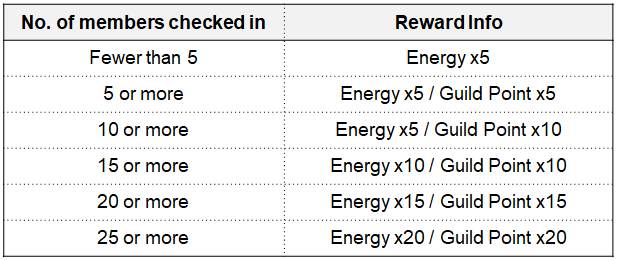 * You can receive Energy x5 reward on the day of v4.0.0 update.
* The Guild Magic Shop has been added.
: It's a guild exclusive shop which Guild Members of the same guild share. The items at the Shop will be refreshed automatically once every 8 hours.
: You can purchase and install the shop by going to [Community > Guild > Guild Shop].
: When you leave a Guild, the Guild Magic Shop building will remain but you can't purchase items at the Shop.
> Guild Content Update! Special Package item has been added.
- It's a limited item that will be available for you to purchase after the v4.0.0 until Aug. 9th. (Purchase limited once per account)
> Guild Content Update Special Gifts
-
and will be given as guild content update special gifts.

Make sure to tap the Event Icon on the right side of the village > Guild content update notice banner > tap the Collect button in the notice page to claim your gifts.
* The reward will be available after Jul. 20th 1:30am PDT.

> Rune Inventory Improvement [Monster > Rune]
- The UI of rune and Enchanted Gem/Grindstone has been separated.
: You can now check the number of Grindstones/ Enchanted Gems you currently possess by each rune set.

- The maximum slots have been expanded.
(Previously) Rune/Enchanted Gem/Grindstone: 600 Slots
(Changed to) Rune - 600 Slots & Enchanted Gem/Grindstones - 400 Slots

- New [Immemorial] Icon has been added in the Enchanted Gem/Grindstone slot.
: In the [Immemorial] menu, new enchantment materials [Immemorial Grindstones] and [Immemorial Gems] will be stored.
: Immemorial Grindstone - It can be used on all types of runes, and it amplifies the sub-properties of runes.
: Immemorial Gem - It can be used on all types of runes, and it changes the sub-properties of runes.

- How can I use Immemorial Grindstones and Immemorial Gems?




: You can check the Immemorial Grindstones and Immemorial Gems by going to the Monster > Rune > Power-up > Enchant.

> Free Rune Removal Event
- The free rune removal event will be held to celebrate the guild content update.
Please check the Free Rune Removal Event notice for the details.

> UI Improvement
- When a Monster doesn't have a leader skill, the notice text will be displayed as shaded to improve clarity in the [battle preparation screen].
- Some resources of the additional downloads will be downloaded as you continue your gameplay.

> Bug Fix
- Fixed the issue of the starting actions not activating when Magic Knight (Awakened) uses some skills.