Update - v4.1.3 Update Notice - 2018-11-13
v4.1.3 Update Notice
Active
Version: 4.1.3
2018-11-13T01:30
Hi, it's Com2uS!
Summoners War v4.1.3 has been updated. Please check below for details!
* The actual update will be applied through an auto update during the maintenance. (Android/iOS)
* Details can be checked through the maintenance notice.
=====================================
v4.1.3 Update Details
=====================================
> 5 New Monster Transmogrifications
- [Grand Duke Chimera / Adamant Monkey King / Moon Dance Boomerang Warrior / Sun Dance Chakram Dancer / Steel Knight Imp Champion]
> [Tartarus' Labyrinth] The Ruler of Labyrinth (Tartarus) battle has been balanced.
- [Easy/Normal] The Immemorial Bond (passive skill) has been removed.
- [Hard] The Immemorial Bond (passive skill) effect has been modified. (300% > 150%)
> [Ancient Magic Shop] New item, Legendary Summoning Pieces, has been added. (Shop > Special)
> [Challenge] Daily Mission has been improved.
- The amount of Mana Stones given when completing some daily missions has been increased.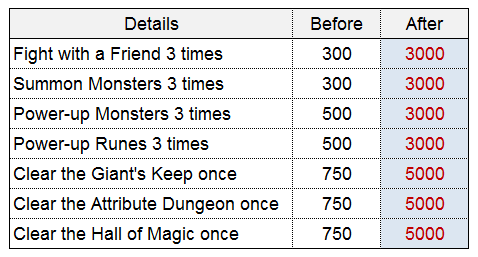 - A daily hidden mission has been added. When you complete all daily missions, one random bonus mission will be given for you to complete. You can get 15 Crystals by completing the hidden mission. The hidden mission gets activated after Cairos Dungeon area is opened.
> [Fuse Center] Improvement
- You can now fuse 5 times at once! [Fuse 5 times] feature has been added.
- The amount of Mana Stones required to fuse Essences has been decreased greatly.

> [Rift Dungeon] Ranking information improvement
- The priority of tallying the rankings has been modified.
: [Before] The highest damage regardless of the grade
: [After] The highest damage of the highest grade you reached
> Clear record improvement
- The clear time record of the battles you entered with a friend's Monster will be exposed in the battle result screen. In the screen, a UI that shows you used a friend's Monster will be displayed.
- The UI has been modified in order for you to distinguish the clear time in millisecond.
- [Cairos Dungeon] Fixed the issue of the clear time not displaying from time to time.
> Some secret dungeon boss stage monsters will now have transmogrifications applied.
> Monster bug fixes
- (Fire) Lightning Emperor [Start of Apocalypse]: Fixed the issue of the HP destroy effect not working properly when using a skill.
- (Water) Lightning Emperor [Forbidden Galdr]: AI will now use the skill on the targeted unit in auto battle.
- (All) Lightning Emperor: The motion effect of Lightning Emperor will no longer be shown when the screen shows a camera zoom-in effect of other monsters.
- (Wind/Dark) Giant Warrior [Atlas Stone]: Fixed the issue of the cooldown time not decreasing properly.
- (Water/Wind) Giant Warrior: Fixed the issue of Giant Warrior's type text being switched. (It was only a text error and the content has been applied properly.)
- (Water) Giant Warrior [Before] HP > [After] Defense / (Wind) Giant Warrior [Before] Defense > [After] HP