Update - v4.1.6 Update Notice - 2018-12-13
v4.1.6 Update Notice
Active
Version: 4.1.6
2018-12-13T23:30
Hi, it's Com2uS!
Summoners War v4.1.6 has been updated. Please check below for details!
* The actual update will be applied through an auto update during the maintenance. (Android/iOS)
* Details can be checked through the maintenance notice.
=====================================
v4.1.6 Update Details
=====================================
> Rune Power-up Improvement
- Power-up x10 feature has been changed to Auto Power-up (consecutive power-ups).
: In Auto Power-up, you can select a power-up lv. of your choice (3/6/9/12/15). Rune Power-ups will continue until it reaches the selected power-up level.
: You can tap on the [Stop] button to stop powering up. A power-up result pop-up will be exposed if you successfully power up a rune at least once.
- Mana Stone cost for powering up 1~5★ Runes has been reduced.

* The cost for power-up Lv. 1 to 15 has been reduced. Please refer to the table above for the price modification.
> [Monster Storage] MAX no. of slots expansion (700 > 750)
- You can expand the storage, and 1 expansion (10 slots) costs 200,000 Mana Stones or 50 Crystals.
> [Arena] The Victory Points required to achieve the Legend grade has been changed from 2,000 to 1,700.
> [Shop > Glory Shop] The upgrade cost of Sanctum of Energy and Mysterious Plant has been reduced.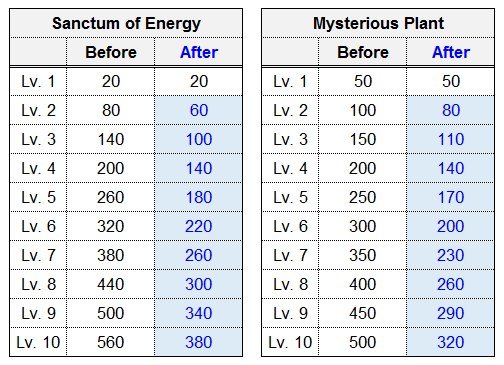 > [Trial of Ascension] A monster deck saving icon has been added. (You can save up to 5 monster decks)
> [Achievements] Improvement
- You'll now only see the ongoing level of the Achievement if there are multiple Achievements that are similar yet divided into several levels.
- [4 Stars! I - IV] achievement descriptions has been changed from "Summon a 4★ Monster" to "Summon a 4★+ Monster".
> [Achievements] Error Fixes
- [Warriors of Light], [Warriors of Dark], [Warriors of Fire], [Warriors of Wind] and [Warriors of Wave]
: The error has been fixed and they are back in the achievement list.
- [Summoning a Light], [Summoning a Dark], [Summoning a Fire], [Summoning a Wind], [Summoning a Wave]
: The error where achievement counts going up due to certain situations even though the achievement completion conditions were not met has been resolved.
> [Rift Raid] The reward display effect from the battle result screen has been modified to be displayed at a faster speed.
> [Power-up Circle] An info pop-up has been added to notify the users when they are using Super Angelmons to 5★ or lower grade Monsters.
> [iOS] The game now supports resolution for iPhone XS Max and iPhone XR devices.