Update - v4.2.6 Update Notice - 2019-04-12
v4.2.6 Update Notice
Active
Version:4.2.6
2019-04-12T23:30
Hi, it's Com2uS!
Summoners War v4.2.6 has been updated. Please check below for details!
* The actual update will be applied through an auto update during the maintenance. (Android/iOS)
* Details can be checked through the maintenance notice.
=====================================
v4.2.6 Update Details
=====================================
> Game Convenience Improvement
- [Trial of Ascension] The difficulty of battle will be displayed on the result screen.
- [Transmogrification Building] Attribute buttons where you can check the Monsters you possess by each attribute have been added. A filter where you can sort monsters by latest/grade has also been added.
- [Guild] The guild search menu will now be located on the very bottom of the guild info menu screen.
- [Power-up Circle] A Monster Storage icon has been added for you to use the monsters in the storage directly from the Power-up Circle.
- [Power-up Circle/ Fusion Hexagram] 4 Monsters will be displayed in one row instead of 3 Monsters.
- [Summonhenge] The screen UI has been adjusted to be wider.
> [Dimensional Crystal] item has been added in the Shop pop-up.
: If you don't have enough Dimensional Crystals to enter the Dimensional Rift, a Shop pop-up will be shown.
> Share with your guild members! New [Mystical Guild Scroll Pack] (Shop > Package)

- The new "Mystical Guild Scroll" item is a special summoning item. Guild members can use the scrolls to summon together in the designated place.
- When a member purchases the pack, the Mystical Guild Scrolls will be given at the [Community > Guild > Guild Summon].
Up to 15 guild members can get scrolls per purchase, on a first-come-first-served basis.
(Available once per user, and the scrolls will be available for 7 days after the purchase.)
> [Guild Magic Shop] The quantity of 3~4★ monster summoning pieces has been increased from 5 to 10. With this change, the price has also been modified.
> [Monster Search] The effects of some Monsters that changed due to the skill balancing patch from the v4.2.5 update have been updated in the search system.
(Tap the [Search] Button on the top-right side in the Monster Collection screen)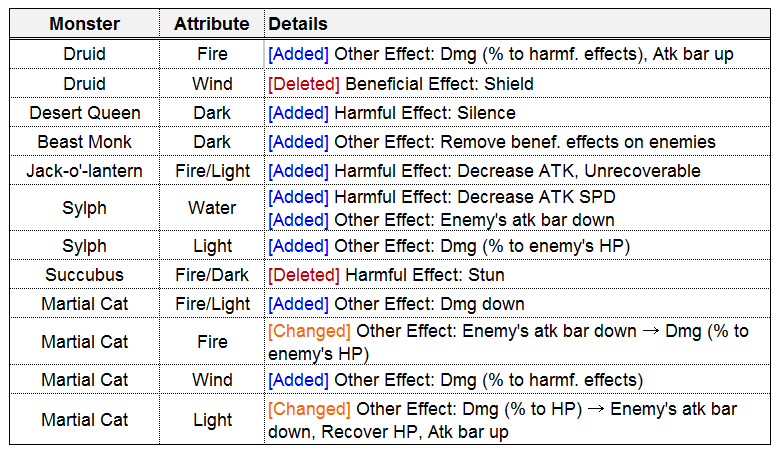 > Bug Fixes
- (Wind) Transmogrified Fairy Land Master Fairy King: The skill effect (decreasing attack bar) of the [Seal Magic] skill will now be displayed in more accurate timing.
- (Wind) Succubus: Fixed an issue of the [Blooming Nightmare] skill's sleep activation chance not being applied properly.
- (Water) Lich: Fixed an issue of the [End of Evolution (Passive)] skill not being activated properly under certain situation.