Update - v5.0.4 Update Notice - 2019-07-15
v5.0.4 Update Notice
Active
Version:5.0.4
2019-07-15T20:30
Hi, it's Com2uS!
Summoners War v5.0.4 has been updated. Please check below for details!
* The actual update will be applied through an auto update during the maintenance. (Android/iOS)
* Details can be checked through the maintenance notice.
=====================================
v5.0.4 Update Details
=====================================
> Early gameplay improvement
- [Summonhenge_Social Summon, Unknown Scroll] "10 Summon(s)" feature that becomes available when you reach Summoner Lv. 30 has been changed to Summoner Lv. 10.
- When you tap the locked content, a pop-up will now specify the unlock condition for each content.
- When you tap the guild content area (Isle of Conquest/ Tartarus' Labyrinth) while you haven't joined a guild, you will be directed to the guild joining notice page.
- The user guide that helps new users during early gameplay has been improved.
- [Chat] The minimum Summoner level condition to use the chat system has been deleted. (Global server)
> [Challenge] Lv. 5 and Lv. 10 level achievement rewards have been added to the level up reward system where you can get rewards by reaching certain Summoner levels.

* Added rewards will be sent out to those who have already claimed all level up rewards after the v5.0.4 update patch is released.
> Some of scenario area clear rewards have been changed.

> [Goddess Ameria's Blessing] Rune power-up cost (Mana Stones) 50% discount benefit has been added.
- Goddess Ameria's Blessing provides the following benefits to new Summoners for 14 days.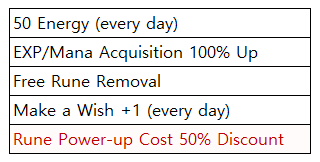 * This change will also be applied to the new Summoners who have Goddess Ameria's Blessing activated before the v5.0.4 update.
> User convenience improvement
- [Chat] You can now tap the nickname of Summoner who found a secret dungeon to see his/her profile info screen.
- The monster thumbnails of Wind Paladin and Light Paladin have been improved to be more distinguishable.
- You will now be linked directly to the event page when tapping the list of events under the [EVENT] Icon shown at Ellia's list.
> Game push notification change
- Notifications regarding building productions and activities will now be sent to Summoners up to Lv. 30. (Mana Stones/Crystals production, level up of monsters placed in the monster upgrade buildings)
- The push notification sent when you get defeated in Arena defense has been deleted.
> [Dimension Hole Energy] item has been added. (Shop > Cash Shop)
* You can also purchase Dimension Hole Energy from pop-up shop that appears when you don't have enough Dimension Hole Energy to enter the Dimension Hole.

> [Dimension Hole] improvement
- [Strategy Info] The attribute buttons have been added to check the secondary awakened monsters by attribute.
- [Secondary Awakening Dungeon] You can now see how much EXP the secondary awakening target monster is gaining at a more accurate timing.
> Game bug fixes
- [Transmogrification Building] Fixed an issue of the Druid's transmogrification icon being omitted in the preview screen.
- [Daily Hidden Mission] Rift attribute dungeon related missions will no longer be given to the Summoners who haven't yet opened the rift attribute dungeons.
- Fixed an issue of the skill icon and skill name not being displayed when certain passive skills that have inability immunity were activated. (Ex: (Fire) Monkey King [Gold Headband (Passive)], (Light) Jack-o'-lantern [Long Waiting (Passive)], etc.)
- Fixed an issue of the "Make a Wish +1" effect not being applied instantly at the time of the effect being applied for the first time and getting refreshed when you reconnect to the game.
> [World Arena] Season 10 will begin soon.
- World Arena Season 10 will be open on Jul. 15th 12am PDT in all servers.
- Season 10 rewards: