Summoners War - Monster - Collection - Dark - Bering
Stats as in Monster Collection!
Skills

Firecracker
Attacks the enemy with a bomb. The damage increases by 15% for each harmful effect on the enemy.
Lv.2 Damage +5%
Lv.3 Damage +5%
Lv.4 Damage +5%
Lv.5 Damage +15%


Multi-Firecracker

Attacks all enemies 3 times with a loud bomb. Each attack has a 25% chance to deal Continuous Damage for 2 turns and the skill cooldown time of [Multi-Firecracker] will be decreased by 1 turn each whenever the enemies are inflicted with Continuous Damage. (Reusable in 4 turns)
Lv.2 Damage +10%
Lv.3 Damage +10%
Lv.4 Cooltime Turn -1


Leader Skill
Increases the Accuracy of ally monsters with Dark attribute by 50%.
Awaken
Awaken Materials

10x Essence of Darkness (High)
20x Essence of Darkness (Mid)

5x Essence of Magic (High)

15x Essence of Magic (Mid)
Awaken Bonus

Magic Exterminator
Attacks all enemies with a bomb that blocks all magic powers, removing one beneficial effect on each enemy and denying the usage of all skills with a cooldowns for 2 turns. (Passive skills excluded) (Reusable in 5 turns)
Lv.2 Damage +10%
Lv.3 Damage +10%
Lv.4 Damage +10%
Lv.5 Cooltime Turn -1

Awaken Name & Image
Bering

Devilmons
It require 11x

or use other Kobold Bomber!
Acquiring

Light & Darkness Scroll

Light & Dark Summoning Piece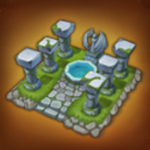 Temple of Wishes
Runes
Early Runes

Fatal
,

Blade






ATK%
ATK%
ATK%
Mid Runes
Violent
,

Revenge


ATK%
CRI Dmg%
ATK%
Late Runes

Rage
,

Blade






ATK%
CRI Dmg%
ATK%