Summoners War - Monster - Collection - Dark - Kamatau
Stats as in Monster Collection!
Skills

Headbutt

Attacks with the horns and provokes for 1 turn with a 50% chance. The provoke effect is guaranteed if the attack lands as a Critical Hit.
Lv.2 Damage +5%
Lv.3 Harmful Effect Rate +5%
Lv.4 Damage +10%
Lv.5 Harmful Effect Rate +10%
Lv.6 Harmful Effect Rate +10%
Lv.7 Damage +15%


Slaughter
Attacks with an axe and recovers 20% HP. Additionally, if the enemy dies by the attack, your HP is recovered by 25% of the enemy's MAX HP. (Reusable in 3 turns)
Lv.2 Damage +5%
Lv.3 Damage +10%
Lv.4 Damage +10%
Lv.5 Cooltime Turn -1


Exile (Passive)
Increases your Attack Power by 100% and your Attack power increases additionally as your HP decreases. You won't be able to receive any beneficial effects during battle. [Automatic Effect]
Awaken
Awaken Materials
15x Essence of Darkness (Mid)

10x Essence of Darkness (Low)

10x Essence of Magic (Mid)

5x Essence of Magic (Low)
Awaken Bonus

Leader Skill
Increases the HP of ally monsters with Dark attribute by 30%.
Awaken Name & Image
Kamatau

Devilmons
It require 10x

! However, do NOT use any Devilmons, use other Minotauros!
Acquiring

Light & Darkness Scroll

Light & Dark Summoning Piece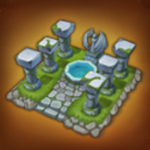 Temple of Wishes
Runes
Early Runes

Fatal
,

Blade






ATK%
ATK%
ATK%
Mid Runes
Violent
,

Blade


ATK%
CRI Dmg%
ATK%
Late Runes
Violent
,

Revenge


ATK%
CRI Dmg%
ATK%