Summoners War - Monster - Collection - Light - Akroma
Stats as in Monster Collection!
Skills

Sword of Promise
Attacks with a sword. [Seal of Light] is automatically activated if the enemy dies.
Multiplier:
[[ATK * 4.1]] + [[180]]
Lv.2 Damage + 10%
Lv.3 Damage + 10%
Lv.4 Damage + 10%


Seal of Light

Attacks an enemy, preventing them from using skills with cooldowns for 2 turns. The damage is proportionate to the enemy's MAX HP. (Reusable in 4 turns)
Multiplier:
[[ATK * 4.4] + [TARGET_MAX_HP * 0.11]]
Lv.2 Damage + 5%
Lv.3 Damage + 10%
Lv.4 Damage + 10%
Lv.5 Cooltime Turn - 1


God's Shield (Passive)
Calls upon the power of the divine shield, gaining immunity against all harmful effects. Additionally, the chance of allies receiving a Critical Hit is reduced by 30%. The effect is not accumulated with other critical hit reduction effects. [Automatic Effect]

Leader Skill
Increases the HP of ally monsters in the Arena by 44%.
Awaken
Awaken Materials

20x Essence of Light (High)
10x Essence of Light (Mid)

15x Essence of Magic (High)

5x Essence of Magic (Mid)
Awaken Bonus
Increase Attack Speed by 15.
Awaken Name & Image
Akroma

Devilmons
It require 7x

or use other Valkyrja!
Acquiring

Light & Darkness Scroll

Light & Dark Summoning Piece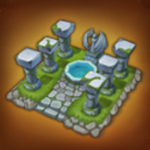 Temple of Wishes