Summoners War - Monster - Collection - Dark - Pioneer
Stats as in Monster Collection!
Skills

Yin Yang Attack

Attacks the enemy with the power of Yin and Yang and puts the enemy to sleep for 2 turns with a 20% chance. The damage increases according to your MAX HP.
Multiplier:
[[ATK * 3.6]] + [[MAX_HP * 0.9]]
Lv.2 Damage +5%
Lv.3 Damage +5%
Lv.4 Harmful Effect Rate +5%
Lv.5 Damage +10%
Lv.6 Damage +10%


North Star's Wisdom

Attacks the enemy 2 times with each attack having a 75% chance to remove a beneficial effect of the enemy and a 75% chance to block the beneficial effects granted on the target for 2 turns. This attack won't land as Glancing Hits. (Reusable in 4 turns)
Lv.2 Damage +5%
Lv.3 Damage +10%
Lv.4 Damage +10%
Lv.5 Cooltime Turn -1


Inhale Magic
Steals the HP of all enemies by 15% of your MAX HP and steals all beneficial effects on all enemies. Increases the Attack Bar of all allies by 20% if you successfully steal beneficial effects. (Reusable in 6 turns)
Lv.2 Cooltime Turn -1


Leader Skill
Increases the Defense of ally monsters by 33%.
Awaken
Awaken Materials

20x Essence of Darkness (High)
10x Essence of Darkness (Mid)

15x Essence of Magic (High)

5x Essence of Magic (Mid)
Awaken Bonus
Increase Attack Speed by 15.
Awaken Name & Image
Woonsa

Devilmons
It require 10x

or use other Pioneer!
Acquiring

Light & Darkness Scroll

Light & Dark Summoning Piece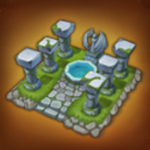 Temple of Wishes