Summoners War - Monster - Collection - Dark - Undine
Stats as in Monster Collection!
Skills

Dark Drop
Attacks the enemy with a cloud of Darkness.
Lv.2 Damage +5%
Lv.3 Damage +10%
Lv.4 Damage +10%


Dark Frenzy
Attacks all enemies with a dark pillar and decrease the Attack Bar by 30% with a 50% chance. Additionally, this attack will heal an ally with the lowest HP by 25%. (Reusable in 4 turns)
Lv.2 Damage +10%
Lv.3 Damage +10%
Lv.4 Damage +10%
Lv.5 Cooltime Turn -1


Dark Return
Revives a dead ally with little HP and grants a turn instantly. (Reusable in 6 turn(s))
Lv.2 Cooltime Turn -1

Leader Skill
Increases the Defense of ally monsters with Dark attribute by 40%.
Awaken
Awaken Materials

10x Essence of Darkness (High)
20x Essence of Darkness (Mid)

5x Essence of Magic (High)

15x Essence of Magic (Mid)
Awaken Bonus

Dark Drop (Strengthened)

Attacks an enemy with a small piece of darkness. On Critical Hit, this attack will increase the chances of the target to land a Glancing Hit.
Lv.2 Damage +5%
Lv.3 Damage +10%
Lv.4 Damage +15%

Awaken Name & Image
Tilasha

Devilmons
It require 8x

or use other Undine!
Acquiring

Light & Darkness Scroll

Light & Dark Summoning Piece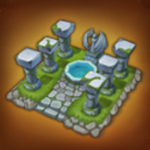 Temple of Wishes