Summoners War - Monster - Collection - Fire - Brownie Magician
Stats as in Monster Collection!
Skills

Run Run
Bounces towards the enemy to attack and gets another turn with a 30% chance.
Lv.2 Damage +5%
Lv.3 Damage +5%
Lv.4 Damage +10%
Lv.5 Damage +10%


Fly Fly

Attacks all enemies with giant orbs, decreasing their Defense for 1 turn. This attack lands as a Crushing Hit, regardless of the enemy's attribute. (Reusable in 4 turns)
Lv.2 Damage +10%
Lv.3 Damage +10%
Lv.4 Damage +10%
Lv.5 Cooltime Turn -1


Whistle




Blows a whistle to recover 30% of the Attack Bar of allies and gives immunity effect for 2 turns. Grants 1 effect out of Increase ATK, Increase DEF, or Increase ATK SPD on allies for 1 turn afterwards. (Reusable in 5 turns)
Lv.2 Cooltime Turn -1

Awaken
Awaken Materials

10x Essence of Fire (High)

20x Essence of Fire (Mid)

5x Essence of Magic (High)

15x Essence of Magic (Mid)
Awaken Bonus

Leader Skill
Increases the HP of ally monsters by 25%.
Awaken Name & Image
Draco

Devilmons
It require 9x

or use other Brownie Magician!
Acquiring

Fire Scroll

Mystical Scroll

Mystical Summon

Legendary Scroll

Legendary Summoning Piece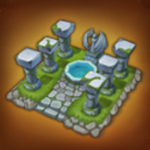 Temple of Wishes
Runes
Early Runes

Swift
,

Energy






SPD
HP%
HP%
Mid Runes
Violent
,

Energy


SPD
HP%
HP%
Late Runes
Violent
,

Nemesis


SPD
HP%
HP%