Summoners War - Monster - Collection - Fire - Dryad
Stats as in Monster Collection!
Skills

Flower Growing
Attacks an enemy and absorbs the Attack Bar by 15% with a 50% chance.
Lv.2 Damage +5%
Lv.3 Harmful Effect Rate +5%
Lv.4 Damage +15%
Lv.5 Harmful Effect Rate +15%


Honey Bee Friends
Honey bees will take away all harmful effects granted on the allies to the target enemy. If the allies don't have any harmful effect, all allies will recover their HP by 20%. (Reusable in 4 turns)
Lv.2 Recovery +5%
Lv.3 Recovery +10%
Lv.4 Recovery +10%
Lv.5 Cooltime Turn -1


Flower Fog

Attacks all enemies to shorten the time of beneficial effects granted on them by 1 turn each. If the enemy doesn't have any beneficial effect, prevents the enemy from gaining beneficial effects for 2 turns. (Reusable in 5 turns)
Lv.2 Damage +5%
Lv.3 Damage +5%
Lv.4 Damage +10%
Lv.5 Damage +10%
Lv.6 Cooltime Turn -1

Awaken
Awaken Materials

10x Essence of Fire (High)

20x Essence of Fire (Mid)

5x Essence of Magic (High)

15x Essence of Magic (Mid)
Awaken Bonus

Leader Skill
The Resistance of ally Monsters is increased by 40% in Guild content.
Awaken Name & Image
Nisha

Devilmons
It require 13x

or use other Dryad!
Acquiring

Fire Scroll

Mystical Scroll

Mystical Summon

Legendary Scroll

Legendary Summoning Piece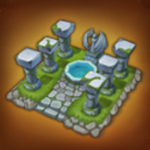 Temple of Wishes