Summoners War - Monster - Collection - Fire - Lightning Emperor
Stats as in Monster Collection!
Skills

Lightning Strike
Attacks the enemy and steals one beneficial effect with a 50% chance.
Lv.2 Damage +5%
Lv.3 Damage +5%
Lv.4 Harmful Effect Rate +10%
Lv.5 Harmful Effect Rate +10%
Lv.6 Damage +10%
Lv.7 Damage +10%
Lv.8 Harmful Effect Rate +15%
Lv.9 Harmful Effect Rate +15%


Gain Knowledge (Passive)
Gains Knowledge by the number of granted beneficial effects when you're granted with a beneficial effect. Gains 3 Knowledge when an enemy or an ally get defeated. You can have up to 5 Knowledge. [Automatic Effect]

Start of Apocalypse
Attacks the enemies in the order of low HP ratio to high HP ratio by the number of Knowledge you have, and then damage increases as you attack. If you have 5 Knowledge, destroys the enemy's MAX HP by 50% of the damage dealt. This skill can be used when you have at least 1 Knowledge, and all Knowledge will be consumed once you use the skill.
Lv.2 Damage +5%
Lv.3 Damage +10%
Lv.4 Damage 15%


Leader Skill
The Attack Power of ally Monsters is increased by 44% in Guild Battles.
Awaken
Awaken Bonus
Increase Critical Rate by 15%.
Awaken Name & Image
Baleygr

Devilmons
It require 11x

or use other Lightning Emperor!
Acquiring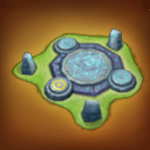 Fusion Hexagram