Summoners War - Monster - Collection - Fire - Ninja
Stats as in Monster Collection!
Skills

Ninja Stars

Throws ninja stars to attack and inflicts Continuous Damage for 1 turn. This attack will deal more damage according to your Attack Speed.
Multiplier:
[[ATK * 1.0] * [[SPD + 145] / [65]]]
Lv.2 Damage +5%
Lv.3 Damage +5%
Lv.4 Damage +10%
Lv.5 Damage +10%

Dragon Attack

Throws an uppercut punch to an enemy 2 times. Each attack has a 50% chance to stun the enemy. (Reusable in 3 turns)
Lv.2 Damage +5%
Lv.3 Harmful Effect Rate +5%
Lv.4 Damage +10%
Lv.5 Harmful Effect Rate +10%
Lv.6 Damage +10%
Lv.7 Cooltime Turn -1


Narrow Escape (Passive)
Offsets the incoming damage that may cause you to die and increases your Attack Bar by 50%. This effect is activated only once in 1 turn. [Automatic Effect]
Awaken
Awaken Materials

10x Essence of Fire (High)

20x Essence of Fire (Mid)

5x Essence of Magic (High)

15x Essence of Magic (Mid)
Awaken Bonus

Leader Skill
Increases the Attack Speed of ally monsters with Fire attribute by 30%.
Awaken Name & Image
Garo

Devilmons
It require 10x

or use other Ninja!
Acquiring

Fire Scroll

Mystical Scroll

Mystical Summon

Legendary Scroll

Legendary Summoning Piece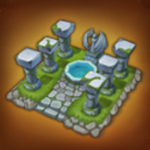 Temple of Wishes
Runes
Early Runes

Swift
,

Blade






SPD
CRI Rate%
ATK%
Mid Runes
Violent
,

Blade


SPD
CRI Dmg%
ATK%
Late Runes

Vampire
,

Revenge






SPD
CRI Dmg%
ATK%