Summoners War - Monster - Collection - Fire - Sniper Mk.I
Stats as in Monster Collection!
Skills

Accurate Fire
Attacks the enemy to inflict damage that ignores all damage reduction effects.
Lv.2 Damage +5%
Lv.3 Damage +5%
Lv.4 Damage +5%
Lv.5 Damage +10%
Lv.6 Damage +10%
Lv.7 Damage +10%


Hidden Aim
Strikes the [Hidden Aim] pose. Increases the chances of receiving a glancing hit by 50% and the damage dealing to an enemy by 200% if you're attacked while in this pose. The [Hidden Aim] pose disables after you attack on your turn. (Reusable in 5 turns)
Lv.2 Cooltime Turn -1
Lv.3 Cooltime Turn -1
Lv.4 Cooltime Turn -1


Dead Eye (Passive)

Decreases the Defense of the enemy with the worst HP status for 1 turn at the start of each turn. [Automatic Effect]
Awaken
Awaken Materials

10x Essence of Fire (High)

20x Essence of Fire (Mid)

5x Essence of Magic (High)

15x Essence of Magic (Mid)
Awaken Bonus
Increase Attack Speed by 15.
Awaken Name & Image
Carcano

Devilmons
It require 9x

or use other Sniper Mk.I!
Acquiring

Fire Scroll

Mystical Scroll

Mystical Summon

Legendary Scroll

Legendary Summoning Piece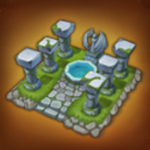 Temple of Wishes