Summoners War - Monster - Collection - Light - Sea Emperor
Stats as in Monster Collection!
Skills

Power Surge
Attacks an enemy, dealing damage and transferring a harmful effect on you to the enemy.
Lv.2 Damage +5%
Lv.3 Damage +5%
Lv.4 Damage +10%
Lv.5 Damage +10%


Sweeping Waves

Attacks all enemies with mighty waves, Silencing them for 2 turns. The enemies under the Silence Effect won't be able to use skills with cooldown time excluding the passive skills. (Reusable in 5 turns)
Lv.2 Cooltime Turn -1


Holy Ground

Removes all harmful effects on all allies and grants them Immunity and Invincibility for 1 turn. Increases the Immunity effect up to 3 turns proportionate to the no. of harmful effects removed from each ally. (Reusable in 6 turns)
Lv.2 Cooltime Turn -1
Lv.3 Cooltime Turn -1


Leader Skill
Increases the Attack Speed of ally monsters by 24%.
Awaken
Awaken Materials

20x Essence of Light (High)
10x Essence of Light (Mid)

15x Essence of Magic (High)

5x Essence of Magic (Mid)
Awaken Bonus
Increases Resistance by 25%.
Awaken Name & Image
Pontos

Devilmons
It require 7x

or use other Sea Emperor!
Acquiring

Light & Darkness Scroll

Light & Dark Summoning Piece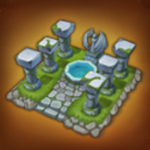 Temple of Wishes