Summoners War - Monster - Collection - Light - Taoist
Stats as in Monster Collection!
Skills

Fake Attack


Performs an unpredictable attack and decreases the target's Attack Power for 1 turn. This attack will also increase the target's chance of landing a Glancing Hit for 1 turn if this attack lands as a Critical Hit.
Lv.2 Damage +5%
Lv.3 Damage +5%
Lv.4 Damage +5%
Lv.5 Damage +10%
Lv.6 Damage +10%


Burning Desert
Attacks all enemies 2 times with a sandstorm and decreases the attack gauge by 30% with a 30% chance for each attack. (Reusable in 4 turns)
Lv.2 Damage +10%
Lv.3 Damage +10%
Lv.4 Damage +10%
Lv.5 Cooltime Turn -1

Secretive Guard (Passive)
If an ally receives an attack that kills them, that death will be prevented and 30% of your MAX HP will be transferred to that ally. This skill will not activate if your HP is below 30%. [Automatic Effect]

Leader Skill
Increases the Critical Rate of ally monsters by 17%.
Awaken
Awaken Materials
20x Essence of Light (Mid)

5x Essence of Light (Low)

15x Essence of Magic (Mid)

5x Essence of Magic (Low)
Awaken Bonus
Increases Resistance by 25%
Awaken Name & Image
Hwadam
Devilmons
It require 9x

or use other Taoist!
Acquiring

Light & Darkness Scroll

Light & Dark Summoning Piece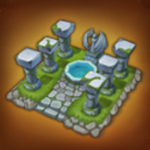 Temple of Wishes