Summoners War - Monster - Collection - Dark - Elemental
Stats as in Monster Collection!
Skills

Holy Claw

Attacks the enemy with sharp claws of darkness. Inflicts Continuous Damage for 2 turns if you get a Critical Hit.
Lv.2 Damage +5%
Lv.3 Damage +5%
Lv.4 Damage +5%
Lv.5 Damage +5%
Lv.6 Damage +5%
Lv.7 Damage +5%
Lv.8 Damage +20%


Solid Blades

Increase your Attack Power and Critical Rate for 3 turns. Additionally, your Attack Bar increases by 50%. (Reusable in 4 turns)
Lv.2 Cooltime Turn -1


Power of Darkness


Reflects 30% of the incoming damage for 3 turns and keeps your HP from falling under 1. (Reusable in 7 turns)
Lv.2 Cooltime Turn -1
Lv.3 Cooltime Turn -1

Awaken
Awaken Materials
5x Essence of Darkness (Mid)

15x Essence of Darkness (Low)

5x Essence of Magic (Mid)

10x Essence of Magic (Low)
Awaken Bonus
Increases Attack Speed by 15
Awaken Name & Image
Camules

Devilmons
It require 10x

! However, do NOT use any Devilmons, use other Elemental!
Acquiring

Light & Darkness Scroll

Light & Dark Summoning Piece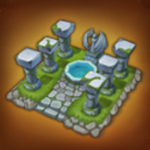 Temple of Wishes