Summoners War - Monster - Collection - Light - Elemental
Stats as in Monster Collection!
Skills

Holy Claw

Attacks the enemy with sharp claws of light. Inflicts Continuous Damage for 2 turns if you get a Critical Hit.
Lv.2 Damage +5%
Lv.3 Damage +5%
Lv.4 Damage +5%
Lv.5 Damage +5%
Lv.6 Damage +5%
Lv.7 Damage +5%
Lv.8 Damage +20%


Element Explosion
Causes an elemental explosion to attack an enemy. The inflicted damage is proportionate to the enemy's MAX HP. (Reusable in 4 turns)
Multiplier:
[[ATK * 4.1] + [TARGET_MAX_HP * 0.1]]
Lv.2 Damage +10%
Lv.3 Damage +10%
Lv.4 Damage +10%
Lv.5 Cooldown Turn -1


Resist Element (Passive)
Decreases the inflicted damage on the ally from Water, Fire, and Wind attributes by 25%. The effect is not accumulated with other decrease damage effects. [Automatic Effect]
Awaken
Awaken Materials
5x Essence of Light (Mid)

15x Essence of Light (Low)

5x Essence of Magic (Mid)

10x Essence of Magic (Low)
Awaken Bonus
Increase Critical Rate by 15%
Awaken Name & Image
Priz

Devilmons
It require 11x

! However, do NOT use any Devilmons, use other Elemental!
Acquiring

Light & Darkness Scroll

Light & Dark Summoning Piece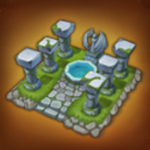 Temple of Wishes