Summoners War - Monster - Collection - Dark - Jumaline
Stats as in Monster Collection!
Skills

Cross Attack

Hits the enemy with an Energy blast and inflicts Continuous Damage for 3 turns with a 20% chance
Lv.2 Harmful Effect Rate +5%
Lv.3 Damage +5%
Lv.4 Damage +10%
Lv.5 Harmful Effect Rate +10%
Lv.6 Damage +10%
Lv.7 Harmful Effect Rate +15%

Soul Split

Pierces the enemy's soul, disturbing the enemy's HP recovery for 2 turns, and recovering 35% HP if the enemy dies. (Reusable in 3 turns)
Lv.2 Damage +10%
Lv.3 Damage +10%


Leader Skill
Increases the Critical Rate of ally monsters with Dark attribute by 23%.
Awaken
Awaken Materials
15x Essence of Darkness (Mid)

10x Essence of Darkness (Low)

10x Essence of Magic (Mid)

5x Essence of Magic (Low)
Awaken Bonus

Bloodthirst (Passive)
Recovers HP by 20% if you land a Critical Hit and increases your Critical Rate by 30% for the next 2 turns. [Automatic Effect]
Awaken Name & Image
Jumaline

Devilmons
It require 8x

! However, do NOT use any Devilmons, use other High Elemental!
Acquiring

Light & Darkness Scroll

Light & Dark Summoning Piece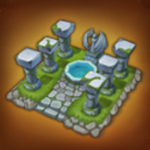 Temple of Wishes
Runes
Early Runes

Fatal
,

Blade






ATK%
CRI Rate%
ATK%
Mid Runes
Violent
,

Blade


ATK%
CRI Rate%
ATK%
Late Runes

Rage
,

Blade






ATK%
CRI Dmg%
ATK%