Summoners War - Monster - Collection - Light - Desert Queen
Stats as in Monster Collection!
Skills

Touch of Seduction

Attacks the enemy and decreases its Attack Power for 2 turns with a 50% chance.
Lv.2 Damage +5%
Lv.3 Harmful Effect Rate +10%
Lv.4 Damage +10%
Lv.5 Harmful Effect Rate +20%


Sweet Dreams

Attacks an enemy. This attack has a 75% chance to remove all beneficial effect and put the target to sleep for 1 turn. (Reusable in 4 turns)
Lv.2 Harmful Effect Rate +5%
Lv.3 Damage +5%
Lv.4 Harmful Effect Rate +5%
Lv.5 Damage +10%
Lv.6 Harmful Effect Rate +15%
Lv.7 Cooltime Turn -1


Gaze of Oblivion
Puts all enemies into Oblivion and prevents them from using skills with cool times for 2 turns. Passive skills aren't activated in Oblivion state. (Reusable in 7 turns)
Lv.2 Cooltime Turn -1
Lv.3 Cooltime Turn -1


Leader Skill
Increases the Attack Power of ally monsters by 33%.
Awaken
Awaken Materials

20x Essence of Light (High)
10x Essence of Light (Mid)

15x Essence of Magic (High)

5x Essence of Magic (Mid)
Awaken Bonus
Increases Accuracy by 25%
Awaken Name & Image
Isis

Devilmons
It require 12x

or use other Desert Queen!
Acquiring

Light & Darkness Scroll

Light & Dark Summoning Piece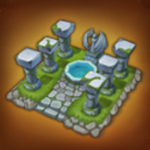 Temple of Wishes
Runes
Early Runes

Swift
,

Energy






SPD
HP%
ACC%
Mid Runes

Swift
,

Focus






SPD
HP%
ACC%
Late Runes
Violent
,

Will


SPD
HP%
HP%