Summoners War - Monster - Collection - Light - Dragon
Stats as in Monster Collection!
Skills

Holy Bolt
Shoots a Light arrow at the enemy.
Lv.2 Damage +5%
Lv.3 Damage +10%
Lv.4 Damage +15%


Holy Light
Calls upon the holy power of light, healing all allies by 15% of their HP and also removing 2 harmful effects from each ally. Light attribute allies will receive doubled amount of healing. (Reusable in 4 turns)
Lv.2 Recovery +10%
Lv.3 Recovery +10%
Lv.4 Recovery +10%
Lv.5 Cooltime Turn -1


Armageddon
Redistributes the HP of all enemies, excluding the Boss, and sacrifices half of your current HP to deal damage proportionate to the sacrificed HP to all enemies. (Reusable in 5 turns)
Multiplier:
[[CUR_HP * 0.60]]
Lv.2 Damage +10%
Lv.3 Damage +10%
Lv.4 Cooltime Turn -1


Leader Skill
Increases the Critical Rate of ally monsters by 24%.
Awaken
Awaken Materials

20x Essence of Light (High)
10x Essence of Light (Mid)

15x Essence of Magic (High)

5x Essence of Magic (Mid)
Awaken Bonus
Increases Resistance by 25%.
Awaken Name & Image
Zerath

Devilmons
It require 10x

or use other Dragon!
Acquiring

Light & Darkness Scroll

Light & Dark Summoning Piece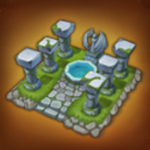 Temple of Wishes
Runes
Early Runes

Energy
,

Energy
,

Energy






HP%
HP%
HP%
Mid Runes
Violent
,

Energy


HP%
HP%
HP%
Late Runes

Vampire
,

Energy






HP%
CRI Dmg%
HP%
PvP Runes

Rage
,

Blade






HP%
CRI Dmg%
HP%