Summoners War - Monster - Collection - Wind - Dragon
Stats as in Monster Collection!
Skills

Thunder Bolt
Shoots a Lightning arrow at the enemy.
Lv.2 Damage +5%
Lv.3 Damage +10%
Lv.4 Damage +15%


Thunder Break

Attacks the enemy to inflict damage proportionate to the target's MAX HP and attacks all enemies once again with 20% of the damage. Additionally, this attack has a 40% chance to decrease the enemy's Attack Power for 2 turns. (Reusable in 3 turns)
Multiplier:
[[ATK * 3.75]] + [[TARGET_MAX_HP * 0.15]],[[ATK * 0.75]] + [[TARGET_MAX_HP * 0.03]]
Lv.2 Damage +10%
Lv.3 Damage +10%
Lv.4 Harmful Effect Rate +10%
Lv.5 Damage +10%
Lv.6 Harmful Effect Rate +20%


Illusion of Time
Removes all harmful effects of all allies and all ally skills will become instantly available. [Illusion of Time] will not be affected by cooldown reducing or increasing skills. (Reusable in 7 turns)
Lv.2 Cooltime Turn -1
Lv.3 Cooltime Turn -1


Leader Skill
Increases the Attack Speed of ally monsters by 24%.
Awaken
Awaken Materials

20x Essence of Wind (High)

10x Essence of Wind (Mid)

15x Essence of Magic (High)

5x Essence of Magic (Mid)
Awaken Bonus
Increase Attack Speed by 15.
Awaken Name & Image
Jamire

Devilmons
It require 10x

or use other Dragon!
Acquiring

Wind Scroll

Mystical Scroll

Mystical Summon

Legendary Scroll

Legendary Summoning Piece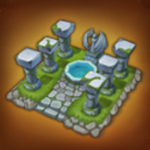 Temple of Wishes
Runes
Early Runes

Swift
,

Energy






SPD
HP%
HP%
Mid Runes
Violent
,

Energy


SPD
HP%
HP%
Late Runes
Violent
,

Nemesis


SPD
HP%
ATK%