Summoners War - Monster - Collection - Light - Lich
Stats as in Monster Collection!
Skills

Soul Summoning

Summons the souls of the dead to attack the enemy 2 - 3 times. Each attack has a 40% chance to decrease the enemy's Attack Speed for 2 turns.
Lv.2 Damage +10%
Lv.3 Damage +10%
Lv.4 Harmful Effect Rate +10%
Lv.5 Damage +10%
Lv.6 Harmful Effect Rate +15%


Sinkhole
Inflicts damage to all enemies with a hole that consumes souls and recovers by 50% of the inflicted damage. Absorbs the enemy's Attack Bar by 15% with a 25% chance for each attack. (Reusable in 4 turns)
Lv.2 Damage +10%
Lv.3 Damage +10%
Lv.4 Damage +10%
Lv.5 Cooltime Turn -1


Endless Attachment (Passive)

Becomes invincible for 1 turn if your HP falls below 50% from above 50%. Drains life from the enemy whenever the enemy's turn ends while the invincible effect is activated. The stolen HP is equivalent to 10% of your MAX HP. [Automatic Effect]
Awaken
Awaken Materials

10x Essence of Light (High)
20x Essence of Light (Mid)

5x Essence of Magic (High)

15x Essence of Magic (Mid)
Awaken Bonus

Leader Skill
Increases the Attack Speed of ally monsters in the Arena by 24%.
Awaken Name & Image
Halphas

Devilmons
It require 9x

or use other Lich!
Acquiring

Light & Darkness Scroll

Light & Dark Summoning Piece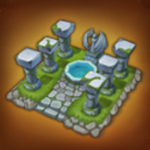 Temple of Wishes
Runes
Early Runes

Fatal
,

Blade






ATK%
ATK%
ATK%
Mid Runes
Violent
,

Blade


ATK%
CRI Dmg%
ATK%
Late Runes
Violent
,

Revenge


ATK%
CRI Dmg%
ATK%