Summoners War - Monster - Collection - Water - Lich
Stats as in Monster Collection!
Skills

Soul Summoning

Summons the souls of the dead to attack the enemy 2 - 3 times. Each attack has a 40% chance to decrease the enemy's Attack Speed for 2 turns.
Lv.2 Damage +10%
Lv.3 Damage +10%
Lv.4 Harmful Effect Rate +10%
Lv.5 Damage +10%
Lv.6 Harmful Effect Rate +15%


Deadly Touch


Randomly attacks the enemies several times and weakens the enemy's defense for 2 turns with a 35% chance with each attack and exchanges the decrease attack speed effect with a freezing effect for 1 turn. (Reusable in 4 turns)
Lv.2 Damage +10%
Lv.3 Damage +10%
Lv.4 Damage +10%
Lv.5 Cooltime Turn -1
Lv.6 Cooltime Turn -1


End of Evolution (Passive)
Gains immunity against inability effects and decreases the chances of being attacked with a critical hit by 25%. Also increases your Attack Power and Defense by 10% whenever you receive an attack that doesn't land as a Critical Hit. (Accumulates up to 10 times) [Automatic Effect]
Awaken
Awaken Materials
10x Essence of Water (High)
20x Essence of Water (Mid)

5x Essence of Magic (High)

15x Essence of Magic (Mid)
Awaken Bonus

Leader Skill
Increases the HP of ally monsters in the Arena by 33%.
Awaken Name & Image
Rigel

Devilmons
It require 10x

or use other Lich!
Acquiring

Water Scroll

Mystical Scroll

Mystical Summon

Legendary Scroll

Legendary Summoning Piece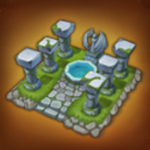 Temple of Wishes
Runes
Early Runes

Swift
,

Energy






SPD
HP%
ATK%
Mid Runes
Violent
,

Energy


SPD
HP%
ATK%
Late Runes
Violent
,

Revenge


SPD
CRI Dmg%
ATK%