Summoners War - Monster - Collection - Dark - Chimera
Stats as in Monster Collection!
Skills

Trample

Pins down the enemy and inflicts Continuous Damage for 1 turn.
Lv.2 Damage +5%
Lv.3 Damage +5%
Lv.4 Damage +10%
Lv.5 Damage +10%


Unleashed Fury


Gain increased Attack Power and Immunity against harmful effects for 3 turns. Instantly recovers a turn when used. (Reusable in 5 turns)
Lv.2 Cooltime Turn -1
Lv.3 Cooltime Turn -1


Forbidden Power
Inflicts up to 2 extra attacks with 50% of the damage if you get a Critical Hit. [Automatic Effect]

Leader Skill
Increases the HP of ally monsters with Dark attribute by 50%.
Awaken
Awaken Materials

20x Essence of Darkness (High)
10x Essence of Darkness (Mid)

15x Essence of Magic (High)

5x Essence of Magic (Mid)
Awaken Bonus
Increases Critical Rate by 15%.
Awaken Name & Image
Zeratu

Devilmons
It require 6x

or use other Chimera!
Acquiring

Light & Darkness Scroll

Light & Dark Summoning Piece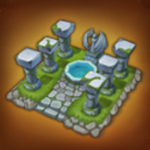 Temple of Wishes
Runes
Early Runes

Fatal
,

Blade






ATK%
ATK%
ATK%
Mid Runes
Violent
,

Blade


ATK%
CRI Dmg%
ATK%
Late Runes
Violent
,

Will


ATK%
CRI Dmg%
ATK%