Summoners War - Monster - Collection - Fire - Verdehile
Stats as in Monster Collection!
Skills

Vampire Bat
Attacks 2 times with a vampire bat and recovers HP by 30% of the inflicted damage.
Lv.2 Damage +5%
Lv.3 Damage +5%
Lv.4 Damage +5%
Lv.5 Damage +15%


Noble Agreement
Strikes two strong blow with a surprise attack. This attack receives a 30% Critical Rate bonus. (Reusable in 3 turns)
Lv.2 Damage +5%
Lv.3 Damage +10%
Lv.4 Damage +10%
Lv.5 Cooltime Turn -1


Leader Skill
Increases the Attack Speed of ally monsters in the Dungeon by 28%.
Awaken
Awaken Materials

12x Essence of Fire (High)

15x Essence of Fire (Mid)

10x Essence of Magic (High)

15x Essence of Magic (Mid)
Awaken Bonus

Boiling Blood (Passive)
Your Critical Hits increase the Attack Bars of all allies by 20%. This effect does not have effect on allies that have similar skill effects. [Automatic Effect]
Awaken Name & Image
Verdehile

Devilmons
It require 8x

or use other Vampire!
Acquiring

Fire Scroll

Mystical Scroll

Mystical Summon

Legendary Scroll

Legendary Summoning Piece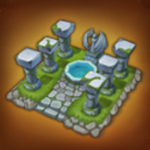 Temple of Wishes