Summoners War - Monster - Collection - Light - Horus
Stats as in Monster Collection!
Skills

Overpower
Deals damage to an enemy and with a 50% chance, decreases its Attack Bar by 30%.
Lv.2 Damage +5%
Lv.3 Harmful Effect Rate +5%
Lv.4 Damage +10%
Lv.5 Harmful Effect Rate +10%
Lv.6 Damage +10%
Lv.7 Harmful Effect Rate +15%


Defensive Stance


Increases the Defense of all allies for 2 turns, and decreases the chance of them receiving Critical Hits. (Reusable in 5 turns)
Lv.2 Cooltime Turn -1
Lv.3 Cooltime Turn -1


Duty of the Monarch (Passive)

Increases the other allies' Attack Bar by 10% whenever your turn ends. If the allies have beneficial effects, additionally increases the Attack Bar based on the number of beneficial effects, up to 20%. This effect does not have effect on allies that have similar skill effects. [Automatic Effect]

Leader Skill
Increases the Attack Speed of ally monsters in the Arena by 24%.
Awaken
Awaken Materials

12x Essence of Light (High)
15x Essence of Light (Mid)

7x Essence of Magic (High)

15x Essence of Magic (Mid)
Awaken Bonus
Increases Resistance by 25%.
Awaken Name & Image
Wedjat

Devilmons
It require 8x

or use other Horus!
Acquiring

Light & Darkness Scroll

Light & Dark Summoning Piece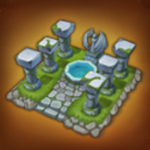 Temple of Wishes
Runes
Early Runes

Swift
,

Energy






SPD
HP%
DEF%
Mid Runes
Violent
,

Energy


SPD
HP%
DEF%
Late Runes
Violent
,

Nemesis


SPD
HP%
DEF%